Peugeot Harlow helps to keep foodbanks on road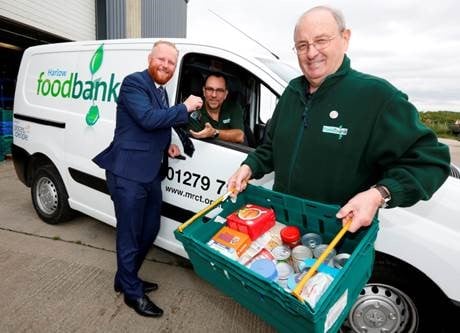 Assistance from local organisations, including Bristol Street Motors Peugeot Harlow, is allowing Harlow Foodbank to stay mobile as it continues its work to support those most in need in the town.
Bristol Street Motors Peugeot Harlow is the latest organisation to support the foodbank by helping to keep its two vehicles on the road, delivering and collecting food and other donations.
In recognition of the great work the foodbank does in giving more than 3,000 people emergency support each year, the dealership has pledged to help the foodbank with service costs for both of its vans.
The Edinburgh Way dealership has joined Places for People and Essex County Council Community Initiative Fund (CIF) as supporters of the foodbank. The three organisations have worked together to provide the funds to purchase a refrigerated van and covered all associated costs including tax, fuel and servicing.
Matthew Southward, Fleet Sales Manager at Bristol Street Motors Peugeot Harlow, said: "Harlow Foodbank does an amazing job supporting people who are undergoing a crisis, so we were happy to be able to support them.
"Michael Roberts Charitable Trust offers a holistic support service from the foodbank, helping people with welfare advice, budgeting and debt support, amongst other services. They really are a one stop shop for local people who find themselves struggling.
"Since opening the foodbank has worked with more than 21,000 people, helping them when they are at their most vulnerable. We're proud to be able to contribute towards their good work by helping keep them on the road, and keep doing the great job that they are doing."
Gary Knott, Co-Founder and Director of Community Services at Michael Roberts Charitable Trust, which runs Harlow Foodbank, said: "We are exceptionally grateful for the support of local organisations including Bristol Street Motors, Places for People and the Essex County Council Community Initiative Fund. We are a charity which relies on donations for a vast majority of our work, so the running costs of transporting produce can take a toll on our finances, which is why this kind of support is so important and allows us to continue our work in the local area."
Cllr Susan Barker, Essex County Council Councillor for Culture, Communities and Customer said, "I am thrilled to provide funding to local organisations that are doing fantastic work in our communities. In this case, we are helping to support the valuable work of foodbank which delivers vital emergency support to people in crisis throughout the county. We are proud to work closely with organisations like foodbank who deliver valuable work and help to bring our communities closer together."
Mary Parsons, Group Director of Placemaking and Regeneration at Places for People, said: "As developers working closely with the local community, Places for People is delighted to continue to support the remarkable work Harlow Foodbank does to help those in need.
"Helping to provide this valuable community resource is essential, and as a result, we are proud to contribute to the resources required to help individuals and families in need, and keep the foodbank functioning successfully."