Peugeot LCV 'already hitting emissions targets'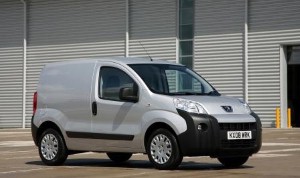 A number of Peugeot's light commercial vehicle (LCV) ranges already meet CO2 targets agreed by the European parliament recently.

The company reports that its 207, Bipper and Partner vans already offer emissions of 147g/km - the long-term target agreed by members of parliament for enforcement in 2020.

According to Peugeot, these models already bring the average emissions of its LCVs below the 2014 target of 175g/km, which will apply to 70 per cent of fleet vehicles within two years.

The Peugeot 207 van emits just 110g/km of CO2 due to its HDi 70 FAP engine, while the new 1.3-litre Bipper emits 109g/km and can offer fuel economy of up to 68.2mpg.

"Peugeot is phasing in Euro 5 FAP engines right across the range, helping reduce running costs and bringing even its largest Expert and Boxer vans right up to date with regards to tailpipe emissions," the manufacturer noted.

A review of the 2009 Bipper on Honest John comments on its value for money, spacious interior and low running costs.