Peugeot to showcase new 3008 HYbrid4 and EX1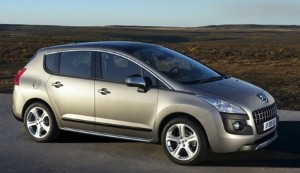 Just a few weeks after announcing that the Peugeot 207 Sportium range is to be expanded, the car manufacturer is heading to the Goodwood Festival of Speed to demonstrate a new vehicle concept.

The Peugeot EX1 holds the record as the fastest-accelerating electric concept vehicle of all time and the firm is set to demonstrate just what it is capable of doing.

Driver Stephane Caillet will once again take the wheel as he manoeuvres the motor up the famous 1.16-mile hill climb.

With two electric motors driving each axle, the car has a combined power output of 340bhp, allowing it to reach 62mph in 3.29 seconds.

Also on display at the festival will be the Peugeot 3008 HYbrid4 - the world's first diesel/electric car.

Peugeot managing director Jon Goodman explained that the event will give the firm a chance to showcase both its heritage and future products.

"Peugeot is a brand that is at the beginning of its third centenary of producing products of considerable innovation, endurance and style," he said.