Phil Jagielka now the proud owner of a Vauxhall Ampera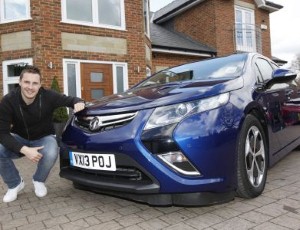 The England and Everton footballer Phil Jagielka is now the proud owner of a Vauxhall Ampera, with the centre back now able to enjoy all the benefits that go with the vehicle.

As well as having impressive efficiency and environmental benefits, the Ampera also comes with a multitude of technological advances inside as well.

Thanks to a part-electric engine, the Ampera has a real-world battery range of between 25 and 50 miles before the 1.4-litre petrol engine then kicks in to boost power.

This adds on a 300-plus mile range with the Ampera's wheels constantly being electrically driven, something which sets it aside from most conventional hybrid vehicles.

The Earth model of the vehicle costs £29,995 on-the-road but buyers are able to count on a £5,000 government grant to help with this, while they can also rely on peace-of-mind that they are helping the environment.

Phil isn't the only footballer to realise the benefits of electric vehicle with eco-conscious defender-turned-pundit Gary Neville also owning an Ampera as well.

The Everton defender, who has 16 international caps, will drive a blue version, conveniently matching the colours of his club, and said he was looking forward to getting behind the wheel.

"I am delighted to be driving a Vauxhall Ampera," he said.

"I am very grateful for all of the help Vauxhall have given me in making this revolutionary vehicle available."

Duncan Aldred, Vauxhall's chairman and managing director, added that it was great to see Phil choose the vehicle.

"We are very pleased Phil has chosen a Vauxhall Ampera," Mr Aldred explained.

"It's great news for Vauxhall to pair one of England's most dependable centre backs with our universally-acclaimed extended-range electric vehicle."

The vehicle looks set to be popular with drivers, coming with the manufacturer's industry-leading Lifetime Warranty as well as a Three-Day Test Drive programme.

This allows drivers to test the Ampera with the only cost being the amount of electricity and/or fuel used.