Production ends on Mazda RX-8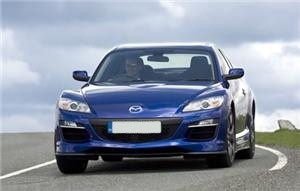 Motorists in the UK are being urged to purchase a Mazda RX-8 as the last of the models leaves the production line.

According to the company, production of right-hand drive RX-8 R3 coupe has now finished and there are fewer than 100 of the vehicles still available to UK drivers.

Priced at £25,540 on the road, the unique four-door sports coupe is practical and stylish and is available with low-rate finance with no minimum deposit.

Mark Cameron, Mazda UK sales director, commented that the Mazda RX-8 has won 37 major international awards - a fact that could make it popular among motorists in the UK.

"The world's only rotary-powered production car is still a head-turner, with tremendous road presence and styling that still looks fresh," Mr Cameron added.

Drivers could be interested to note that the RX-8 R3 boasts 231ps and can reach 62 mph in 6.4 seconds.

Meanwhile, the new Mazda 3 and Mazda 5 models will be showcased at the Paris Motor Show in October, along with the upgraded Mazda 2.