Renault Nottingham wins prestigious award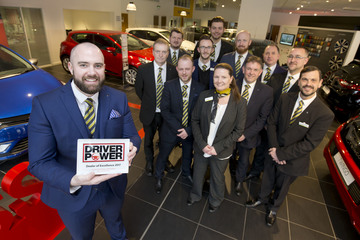 Bristol Street Motors Renault Nottingham is celebrating after receiving a prestigious award from Groupe Renault UK and Auto Express Magazine.
The Haydn Road dealership was one of just 17 dealerships throughout the UK to win the prized 'Driver Power – Dealer of Excellence' award, which is hosted by Renault's UK operation and Auto Express Magazine in recognition of dealerships which go the extra mile for customers.
Bristol Street Motors Renault Nottingham's general manager Tom Garratt received the award from Renault's UK Managing Director, Paul Flanagan at the carmaker's conference in central London.
The dealership received the nomination after it exceeded Renault's in-house customer satisfaction measures following an in-depth independent customer care evaluation by Driver Power, the UK's leading car customer satisfaction index operated by Auto Express Magazine.
Tom Garratt, general manager at Bristol Street Motors Renault Nottingham, said: "I'm so proud of my team for their hard work and commitment to customer service which put us in pole position to win this award.
"It's especially pleasing because this award directly relies on positive feedback from our customers, so demonstrates to me that they are leaving our dealership content that they have received great service."