SKODA Celebrate Double Success at Auto Trader New Car Awards 2022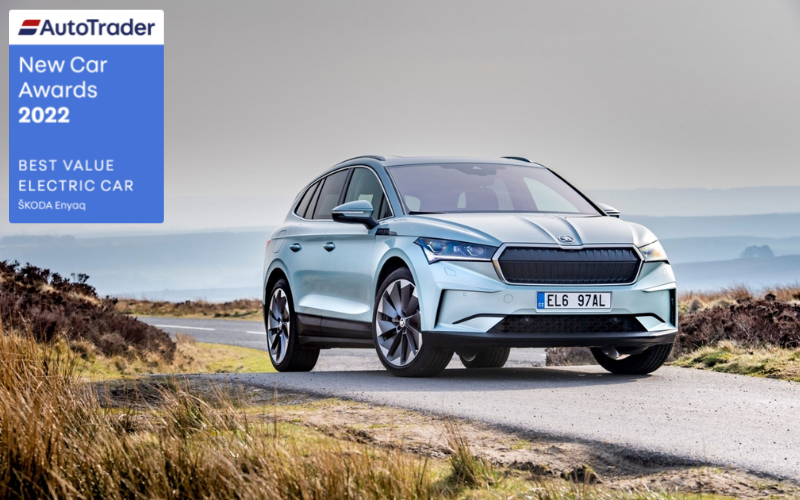 SKODA are celebrating success after the winners of the Auto Trader New Car Awards 2022 were announced, with the Enyaq named 'Best Value Electric Car' and Kodiaq crowned 'Best Car For Long Distances'.
The Auto Trader New Car Awards are unique in that the winners are decided by the general public and not editorial judging panels.
156,500 real car owners had the chance to cast their vote across 19 of the 22 categories, rating their cars on different criteria including reliability, performance, running costs, and how likely they would be to recommend it to others.
Enyaq iV is the first fully-electric SUV offering from SKODA and highlights the growing popularity of EV's. Being crowned 'Best Value Electric Car' is one of the more important awards as the premium price tag of many EV's is a sticking point for a lot of consumers.
This year's awards saw the highest number of EV winners, with 40% of winner's electric vehicles, up from 36% the previous year. Electric vehicle searches now make up one in five searches on Auto Trader, which is the UK's largest automotive marketplace.
Erin Baker, Auto Trader Editorial Director, said: "The new car market is fast changing, with a new electric vehicle entering the market every week. However, with so much choice in the market, it can be a challenge for consumers to find the car that is right for them. That's where our New Car Awards can help. With categories based on how consumers actually use their cars in the 'real-world', it offers buyers insight into which makes, and models could best suit their lifestyle."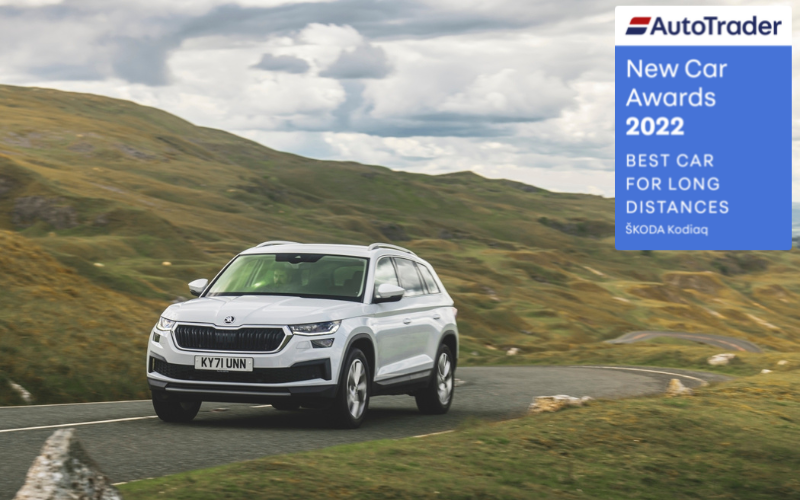 With travel chaos affecting airports across the country and rising train fares, drivers are opting to embark on summer holidays in their cars and SKODA Kodiaq was named 'Best Car for Long Distances'.
Drivers voted it their favourite for its blend of refinement, comfort, efficiency, and plenty of tech to keep you safe and the kids entertained while on the road.
Find out the full list of Auto Trader 2022 New Car Award winners below:
1. New Car of the Year - Polestar 2 *electric vehicle
2. Best Car for Families – Audi e-tron *electric vehicle
3. Best Car for New Drivers – Ford Puma
4. Best Value New Car – Dacia Duster
5. Best Car for Long Distances – Skoda Kodiaq
6. Most Fun to Drive – Alfa Romeo Giulia
7. Best Car for City Drivers - MG HS
8. Best Car for Dog Owners – MG MG5
9. Best 7-Seater Car – Kia Sorento
10. Best Car for Towing – Volvo XC40
11. Most Loved Car – Polestar 2 *electric vehicle
12. Best Hybrid – Renault Arkana
13. Best Value Electric Car – Skoda Enyaq iV *electric vehicle
14. Best Premium Electric Car – Polestar 2 *electric vehicle
15. Best Value Brand – Dacia
16. Most Loved Brand – Porsche
17. Most Reliable Brand – Lexus
18. Car brand with the best tech – Tesla *electric vehicle
19. Best Luxury Car – Audi RS6 Avant
20. Sustainability Initiative Award – Nissan
21. The Rory Reid Award – BMW IX *electric vehicle
22. The Erin Baker Award – Vauxhall Mokka-e *electric vehicle