Skoda Gives ENYAQ Iv 80 A Festival Makeover with One-Of-A-Kind FestEVal design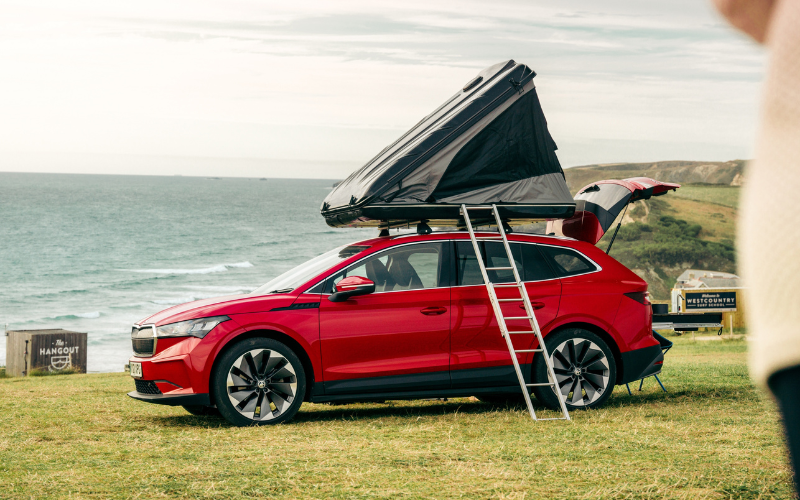 The one-off design has been released to celebrate the summer festival season, showcasing exciting possibilities for campers and festival goers alike.
Czech manufacturer SKODA have given their ENYAQ Iv 80 a festival makeover for the summer season, giving some exciting inspiration to those owning or aspiring to own an electric vehicle that is perfect for road-trips- from camping to festivals.
It's equipped with a range of fantastic integrated features, which are easy to use and provide added comfort and convenience while travelling on the road - whether it's for festival fun or comfortable camping!
Simple set-up
This includes a camping unit located in the boot, provided by Czech manufacturer, EGOE. Sliding easily outwards from the boot while parked up, features include an integrated gas cooker, collapsible sink with tap and hose, preparation area and handy storage compartments, so you can cook while enjoying the great outdoors.
The EGOE unit is also flexibly designed with convenience in mind, allowing the rear seats to remain useable while travelling and when parked up. It also provides a sleeping area for two people in addition to the roof tent above, making the ENYAQ Iv one of very few electric vehicles with room for up to four people.
For summer nights spent enjoying some drinks around the campfire or gazing at the stars, the electric SUV is equally as equipped, with a foldable table and camp chairs which can be set up in a matter of seconds. Whether you're waiting for your favourite band to come on stage or toasting marshmallows with the family – you can get comfortable.
Room for Four
Unlike most campervans, the SKODA ENYAQ iV FestEVal takes a step upwards with its accommodating layout, offering not one but two sleeping areas to house up to four people. There's the boot-based area with a double bed frame you can assemble in minutes, and a roof-based tent which is easy to set up.
For the boot area, the bed frame cleverly extends across the folded rear seats, and the mattress cushions are stored on the box for both easy access and comfortable use.
Those sleeping in the tent will enjoy a more premium camp-like experience. Accessed by a ladder stored inside the tent box, this can be easily set up and offers netting inside for storage, a solar powered fan, and an integrated torch to make guests as comfortable as possible.
Electric Excellence All-Round
In addition to all these features designed to offer comfort and convenience while camping, the ENYAQ Iv's eco-friendly technology makes it perfect for road trips. The clever interior layout offers 585 litres of storage for luggage (increased to 1,710 litres with rear seats folded) and offers a range of up to 338 miles.
The 82kWh battery can be easily charged up to 80% in as little as 30 minutes, meaning you can make quick stops during the journey for charging, and grabbing a much-needed coffee.
Utilising the latest innovative technology, the ENYAQ Iv also makes use of regenerative braking to harness energy normally lost during braking. This energy is then redistributed to the battery for self-charging while on the road.
Don't Forget the Tech
With a 13" infotainment screen, digital instrument cluster and head-up display, the ENYAQ Iv is well up to speed with the latest tech to make your drive safer and easier. All the important information you need is displayed right in front of you, including navigation, road signs, and speed limits.
There's even a permanent internet connection allowing campers to connect up to eight devices to the WIFI, keeping drivers (and kids!) happy. A connected app gives you more control of the drive, from enabling scheduled charging, to cabin pre-conditioning, preparing the ENYAQ IV for your journey.
With five design selection interiors on offer, you can choose from Loft, Lounge, Suite, EcoSuite and SportLine, according to your style preferences.
Though the SKODA ENYAQ iv FestEVal edition will not be mass-produced for sale, it gives you some inspiration on how you could adapt your ENYAQ Iv, or similar electric SUV, for outdoor adventures.