Skoda previews new Kodiaq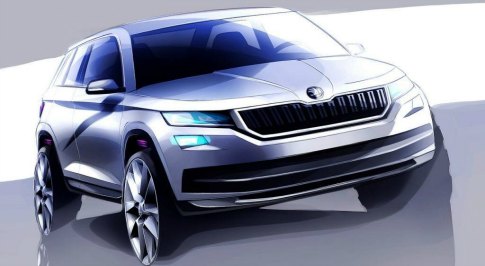 Skoda has released new sketches of its upcoming new SUV, the Kodiaq.
The Kodiaq sketches have been released as a teaser to audiences ahead of its big reveal at the Paris Motor Show, coming up this autumn. Based on the VisionS concept that showcased in Geneva, the sketches suggest the Kodiaq will retain a large proportion of the features that excited drivers upon its initial design.
The Kodiaq is touted to be the largest Skoda yet, above the Skoda Yeti. It seems there's a theme appearing of Skoda naming their cars after big hairy beasts, as the new SUV draws its name from the Kodiak bear, native to Alaska. Skoda have stated the 'q' was added to make the name more distinctive.
Key points of the cars' exterior, including the large front grille and the lighting layout, are likely to remain unchanged by the time the car reaches production. The interior featured in the concept VisionS is likely to change, however, and is expected to have seven seats.
The ursine SUV will be available in the UK from early 2017.