Surprising Celebrity Cars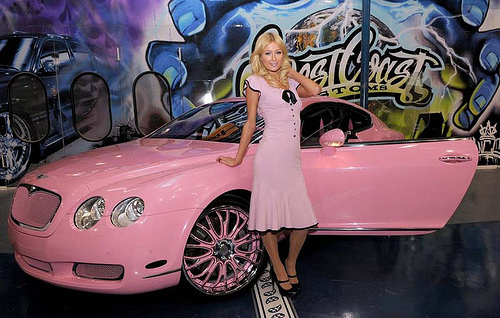 Thought being a celeb was all about gold Lamborghinis, diamond encrusted hub caps, and chauffeurs? Think again, as our list of surprising celebrity cars reveals a far more modest state of affairs.
Jennifer Lawrence – Volkswagen Eos
When most stars are catapulted to from 0 – superstar in 5 seconds, they tend to make the transition badly. Tantrums and wild spending have come to be what we expect when a new young star hits the scene. Not for 25 year old actress Jennifer Lawrence, though. She still rides around Beverly Hills in the same 140bhp, 2.0 litre Volkswagen Eos she's had for years.
Ryan Gosling – Toyota Prius
The Prius is riding a wave of popularity in Hollywood, thanks to its admirably low emissions at 72.4MPG. Whether Hollywood stars are lining up to buy Prius's in their droves because they are genuinely environmentally conscious, or because they think it'd be good for their public image remains to be seen. Other proud Prius owners are Cameron Diaz, Jennifer Aniston, Will Ferrell, Leonardo DiCaprio, Harrison Ford, Tom Hanks and Bradley Cooper.
Conan OBrian – '92 Ford Taurus SHO
The late night talk show host may be worth around $75 million, but he still drives the same '92 Taurus SHO he has been driving for the last 20-odd years. The five-speed car has a Yamaha-made 3.0 litre V6 engine with 220bhp. Not bad for a car thats been rumbling along for over 2 decades.
Queen Elizabeth II – Range Rover Sport
The adorable 89 year old monarch is well known for her fondness for cars, and Land Rover has long been a manufacturer close the Royal Family's collective heart. The Queen's latest, a custom, open roofed, hybrid Range Rover Sport, was built for the Queen in 2015 to commemorate the Range Rover's 45th birthday – which is almost as impressive as the fact that 2015 was the Queens 63rd year on the throne. The current Royal Range Rover has a 3.0 litre engine, with 306 bhp and an impressive 0-62 of 6.8 seconds.
Madonna – Mini Cooper
'Holiday' singer and fitness fanatic Madonna loves her Mini so much that she rapped (yes, rapped) about it in her song 'American Life': "I drive my Mini Cooper and I'm feeling super-duper". You may or may not be surprised to learn that the song bombed, with several music publications dubbing it 'the worst rap verse of all time'. Luckily, it didnt tarnish the reputation of the much loved 2.0 litre, 189 bhp Mini Cooper.
Justin Bieber – smart fortwo
While his garage may be crammed with a chrome Fisker Karma, Lamborghini Gallardo, and Ferrari 430, the Bieb also finds time to own and drive a matte black smart fortwo, with a 0.8 litre engine and a 0-62 of 16.8 seconds, countered with a MPG of 66. Oh, and hes had the 'Smart Car' logo changed to read 'Swag Car'. Of course he has.
Paris Hilton – Bentley Continental GT Coupe
Okay, so this car isn't that surprising as a celebrity ride, given the price tag. What is shocking though, is that, rather than appreciate the car for what it is – a piece of automotive excellence and a symbol of success and class capable of a staggering 582bhp – Ms Hilton took it upon herself to spray paint the whole thing hot pink. Take a look at the photo below, or just throw sand in your own eyes. It's more or less the same thing.
Daniel Radcliffe – Fiat Punto
When The Boy Who Lived reached 18th birthday, the easy-going actor gained access to his then-fortune of £23 million (now an eye watering £78 million). While that much money would send your average teen wild, (were looking at you, Justin) Daniel spent his earnings on an affordable and environmentally conscious 1.2 litre Fiat Punto. Good lad.
Jeremy Clarkson – VW Golf GTI
It's kind of car you'd expect to find in Clarksons garage, but the VW Golf GTI owned by the motor-mouth journo is anything but average, rocketing to 62mph in 6.5 seconds, with 217bhp and a top speed of 152mph. The world's most loved and loathed car critic also owns a Ford GT, a Ferrari F355, a Lamborghini Gallardo, a Jaguar XJR, a Mercedes-Benz SL55 AMG, a – look, we could be here all day. Basically, he has a lot of cars.
Clint Eastwood – Fiat 500
Now in his 85th year, the legendary Man With No Name has traded in his horse and hung up his spurs, instead opting for a cutesy Fiat 500 to nip around Hollywood in. Gone are the days when the permanently squinting megastar gunned down punks in the street, these days it seems hes more concerned with the Fiat 500s smooth ride, 1.2 litre engine and efficient 60.1 miles to the gallon. The Fiat has excellent cabin room, however, should Clint ever fancy donning his Stetson again.