The Ford EcoSport, launched in 2014, has been a staple in the small SUV market. Small, but mighty, the Ford EcoSport has been redesigned to give you a better, faster experience for your money.
Take a look at what to expect from the updated SUV...

A good problem to have is trying to choose the colour of the EcoSport - with a choice of 9 colours depending on your choice of trim, you can build an EcoSport that gives you a chance to express yourself the way you want to.
Quickclear is the perfect assistant for you in the Winter seasons and frozen climate; just a simple touch of a button gives you superheated filaments that will help to de-ice, de-fog and de-mist your windscreen whilst making sure no part of your wipers is left frozen. Your wing mirrors will also be heated, meaning you're looking at a car that's going to be a breeze to climb into on frosty mornings. If you decide a sunroof is a perfect companion for your new car, opt for the Titanium or ST-Line models.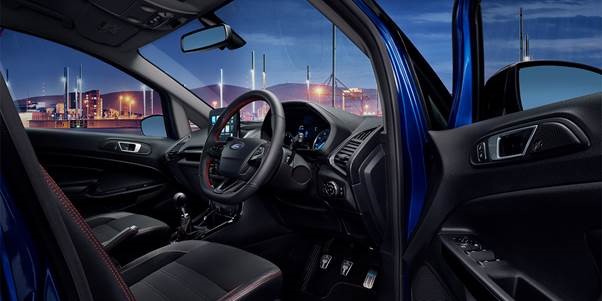 The Ecosport is a godsend for those of you who struggle to see over the dashboard - the boosted ride height means you can safely see what's in front of you and enjoy a grand view as you're driving on your journeys.
Infotainment has had an upgrade, with the SYNC 3 system. This system allows you to connect and control your phone, music and sat nav with a few simple voice commands. Phrases like 'I'm hungry' will bring up places you can eat, for example. Heated seats keep you warm in the colder seasons as well as Electronic Temperature Control to ensure you don't have to worry about being too hot or cold.
1178 litres of cargo space means that you're able to pack the car for those long-haul journeys - that space is enough to fit a washing machine!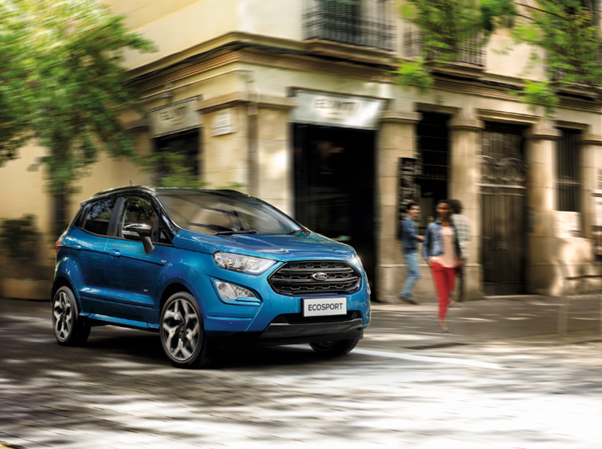 The Ford EcoSport comes with the familiar 1.0-litre EcoBoost petrol for that familiar powerful drive. Joining the 2018 update will be the new 1.5-litre EcoBlue diesel with Ford's Intelligent AWD, giving you 0-62mph in 10.9 seconds, a great option for those of you looking to have a smooth ride at a steady pace.
A facelift is just what the EcoSport needed, with little additions that make the car contender in the SUV market for 2018 - don't miss out on learning more by getting in touch today or visiting our website for more information!