The Peugeot 5008 Wins What Car? Best Large SUV Award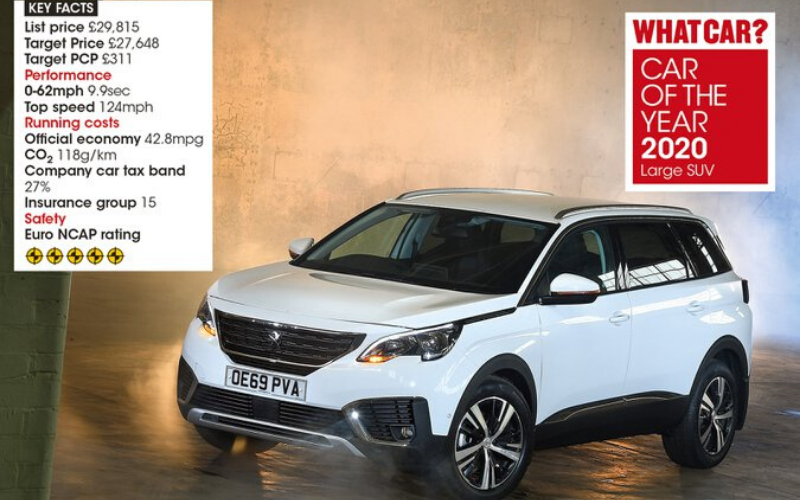 At the annual What Car? Awards, the Peugeot 5008 SUV 1.2 PureTech 130 Allure drove away with the Best Large SUV title for the third consecutive year!
Two of the main features that the judges look out for when crowning the winner of the large SUV category is space and practicality, and no other vehicle can match the Peugeot 5008 in these areas.
Steve Huntingford, Editor of What Car?, said: "One of the main priorities for Large SUV buyers is space and practicality, and no rival can hold a candle to the PEUGEOT 5008 SUV in this regard. With seven seats, a sliding middle row and a big, well thought-out boot, it offers more than some SUVs costing nearly twice as much, all the while delivering comfort and interior quality to take on the lot."
Featuring 7 seats as standard, you can invite the whole family to enjoy a ride in the Peugeot 5008, or opt to remove the third row of seats entirely, making it an adaptable family car that works around you. The boot space is super practical too, allowing for plenty of room to pack in everything, including the kitchen sink!
Furthermore, the Peugeot 5008 is a technical revelation, with the Peugeot i-Cockpit system helping families stay safe, entertained and informed on all journeys!
Not only is the 5008 jam-packed with fantastic features, but it also looks the part! It's stylish, sophisticated and we're sure the kids won't mind being seen in this SUV on the school run!
David Peel, Managing Director of PEUGEOT UK, said: "It's fantastic to start the New Year by collecting awards from one of the most prestigious and influential motoring titles in the UK. The What Car? Car of the Year Awards is a great indicator of which models will perform well in the coming year. Our 5008 SUV continues to be a favourite among both motorists and industry experts, winning yet another 'Large SUV' of the year award, suggesting another strong year ahead for PEUGEOT."