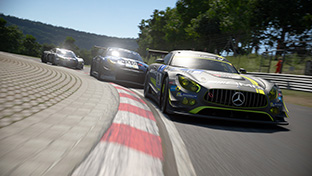 From drifting around the corners of the most difficult hill climbs, to living the life of Jeremy Clarkson and the Grand Tour gang, we take a look at our top 5 car racing games.


5. Game: The Grand Tour Game
Platforms: XBOX One / PS4
Kicking off the list is a real curveball. On August 21st, The Grand Tour announced they would be releasing their very own game - allowing us to live the dream and travel the globe as Clarkson, May or Hammond in our choice of the world's greatest (and worst) cars! Details on this are very limited at the moment but we do know it will be arriving alongside Season 3 of the Amazon series later this year, and the game itself will be a weekly episodic game that allows you to relive the challenges that the trio get up.
We don't have an exact release date but this had to make our top 5 list as we can't wait to see if the game is as good as the show itself!
4. Game: Need For Speed Payback
Platforms: PC / PC Downaload / PS4 / XBOX One
Need for Speed feeds our need for nostalgia. If you don't remember having at least one race of Need for Speed Underground 2, then 2004 must be the year you decided to start living under a rock. If you remember spending countless days drifting round a speedway, trying to earn enough credits for new wheel trims on your clapped out Dodge Challenger, then we can relate! Need for Speed payback was released in 2017 and has since filled our evenings with epic races, epic cars, and most of all, epic wipeouts! This game brings our nostalgic arcade-like racing to 2017 and deserves the spot in our Top 5 Car Games!
3. Game: WRC Racing Game
Platforms: PS4, XBOX One, Windows PC
There's no denying that Rally Cross is the most exciting motor sport in the world, right? It goes without saying then, that WRC 7 simply MUST make our list! With your pick of the hottest of hot-hatches, you can enjoy the most challenging tracks and hill climbs the world has to offer, getting you as close to the real thing as you possibly can be!
2. Game: Forza 4
Platforms: PS4, XBOX One, PC
Forza is undoubtedly one of the best motor racing games out there. It sits up top with Gran Turismo and these two games divide people's opinions just like the XBOX One vs PS4 debate. If you're a fan of Forza, then you'll be super hyped to hear the latest edition of their adrenaline pumping game will be released very soon - we can't wait!
1. Game: Gran Turismo Sport
Platforms: PS4
The daddy of motor racing simulation - Gran Turismo! Dubbing itself as the 'Real Driving Simulator', Gran Turismo has been pushing the boundaries of e-motorsports since 1997. GT Sport is the most advanced and realistic edition of the series, bringing you as close to the wheel of the world's greatest supercars as you may ever get!
What is your favourite game? Let us know on Facebook at www.fb.com/BristolStreetMotors