Upgraded Mazda 2 revealed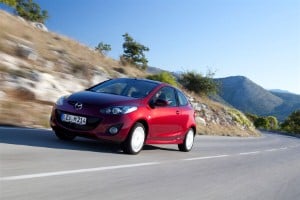 Mazda has unveiled an upgraded version of the Mazda 2, confirming a range of improvements over the older model.

Improved engine performance is one feature that drivers of the new vehicle can expect. All new engines are Euro 5 compliant, produce less carbon dioxide and use either the same amount or less fuel than earlier versions, Mazda has confirmed.

"The Mazda 2 is now even more enjoyable to own with improved interior quality feel and greater ride comfort," the company said.

Aside from, improved efficiency, the vehicle features updated exterior styling to the front end, providing "more sportiness".

Internal upgrades have been included in order to help offer a more durable feel to the car. Such improvements include the use of more hard-wearing materials for the most commonly touched surfaces in the centre stack, along with more stylish seat fabrics and patterns.

Shigeo Mizuno, programme manager at Mazda, said that he hopes users of the new car will be able to tell exactly how much it has changed from the previous version.

Last month, the company revealed details of the updated Mazda 5, which has been designed for maximum versatility.