Vauxhall celebrates the centenary of the UK's first 100mph car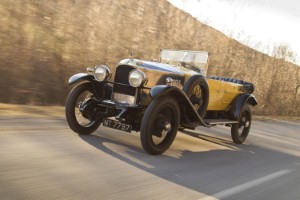 The Vauxhall 30-98 was Britain's first vehicle to reach 100mph. Its manufacturer is celebrating its centenary this May with an event that will see 50 surviving vehicles attempting the Waddington Fell hillclimb.

This was the location of the Vauxhall 30-98's first ever appearance and competition success way back in 1913.

The vehicle was based upon the Vauxhall C10, which was considered the UK's first sports car when it was launched to compete alongside motors from the likes of Bentley.

Thanks to weighing 400kgs less than a Bentley 3.0-Litre and still boasting a high powerful engine and axle ratio, the 30-98 was capable of achieving remarking speeds. What's more, it was developed in only 71 days.

Some 600 cars were manufactured over the course of 14 years and an impressive third of these are still in existence today.

When it took to the Waddington Fell hillclimb in Lancashire it set the fastest time over the day, which inspired the Vauxhall directors to ramp up production.

It was fitted with a 4,525cc four cylinder enginge, which was capable of producing 90bhp, although later models managed to push 11bhp.

One of these more advanced iterations, the OE-type, was successful at reaching 100mph, making it the first production car to achieve this feat.

The OE-type was widely popular among the British motoring press and was even developed as a result of a letter from The Autocar's editor who complained he could not buy a roadcar that reached these high speeds.

"Few cars have such graceful lines yet at once suggest unlimited strength allied to speed…and very, very few can take a corner stiffly with absolute certainty as this one can," The Autocar said.

There are a number of other events supporting the 30-98 centenary, including the three-week 'Thirsty Down Under' Tour in October and November, CarFest North and South in August and the Brooklands Double Twelve in June.