Vauxhall to showcase Ampera at concerts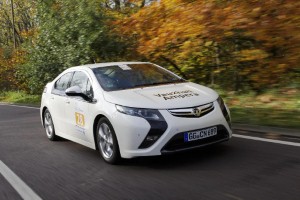 Vauxhall will preview its upcoming Ampera model during a world tour of performances by singer-songwriter Katie Melua, it has been announced.

According to the manufacturer, concert goers in 51 European cities will be able to catch a glimpse of the stylish model before it goes on general sale in 2012.

The Vauxhall Ampera will be the first extended-range electric vehicle to reach the UK market, balancing emissions-free motoring with high performance and a range of up to 350 miles.

Drivers who invest in the Ampera when it goes on sale will benefit from zero vehicle tax, congestion charge exemption and company car tax of just five per cent.

"I like the way Vauxhall addresses topics like environmental protection and sustainability and I feel very comfortable with the partnership. I already had the chance to drive the Ampera and I was really impressed with it," the singer commented.

Vauxhall is also giving away a song by the artist this week via its website.

The company ranked number one for new car registrations in the UK last month, shipping almost 10,000 units including the popular Corsa and Astra ranges.