Vauxhall to showcase new electric van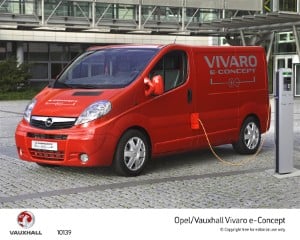 Vauxhall is set to unveil its new Vivaro e-Concept van at the IAA Commercial Vehicle Show in Hannover tomorrow (September 22nd).

The electric van features 111 kWh lithium ion batteries, allowing it to cover up to 60 miles on battery power alone, while a range extended enables it to travel up to 250 miles.

Making its appearance at the German exhibition, the new van can be recharged via a conventional 240V household outlet and boasts 370 Nm of power.

It also features up to 750kg of payload.

Chris Lacey, executive director of international operations for Opel/Vauxhall Commercial Vehicles, said the firm is expecting a "fantastic reaction" to the Vivaro e-Concept from commercial vehicle specialists.

"Electric mobility will allow them to travel in city areas which are now off-limits to petrol and diesel-powered vehicles and the range extender technology makes it possible to use an electric van for normal business," Mr Lacey commented.

In other news, Vauxhall will unveil its GTC Paris Concept at the Paris Motor Show on September 30th, a three-door model based on the Vauxhall Astra.