Vehicles on parade at the Fleet World Fleet Show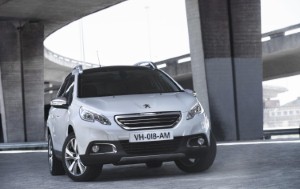 When the Fleet World Fleet Show gets underway on Wednesday, April 24th, there are likely to be plenty of firms there keen looking to take inspiration by what's on offer.

As well as the tried and tested vehicles that consistently offer top performance for companies, there will be completely new cars and vans as well as perennial favourites with a new twist.

Event organiser and managing editor of Fleet World, Ross Durkin believes the event "will have a line-up of some of the very latest new car launches of interest to fleets". So let's take a look at which vehicles will populate the event.

Peugeot

The French car maker Peugeot has announced that it is to bring plenty to the party, including its new 2008 vehicle, which with various state-of-the-art engines as well as an impressive 61.8mpg of fuel economy.

What's more, with CO2 emissions from just 98g/km, it's easy to see exactly why the firm hopes to attract plenty of decision makers to its stall at Silverstone.

The firm isn't done there though, it is also to give guests a chance to test drive the new Partner Electric van, the sporty new 208 GTi as well as the restyled RCZ coupe and low CO2 HYbrid4 models.

SEAT

Moving onto SEAT, it will debut both its new Leon and Toledo models, with people at the event having the chance to test drive these cars on both public roads and the race track itself.

At the higher end of the price spectrum, the Leon will be available in both FR and SE specifications, with both including parts of the Technology to Enjoy mantra.

The Toledo, on the other hand, will only be made available in the more universally affordable, value-for-money SE spec.

Nissan

Finally, moving on to Nissan, the firm will be showcasing the all-new Note, with the show offering the first chance to test drive the car.

It has, as yet, only been shown off at the Geneva motor show, but The Fleet World Fleet Show will offer drivers the chance to experience a new generation of European-designed, engineered and built Nissan cars with their combination of eye-catching design, low CO2 emissions and first-in-sector technologies.

In total, there will be 200 models from 21 manufacturers present at the show with Mr Durkin saying it will offer a great chance for fleet decision makers to experience first-hand what the cars are all about.

"For many, it will be their first opportunity to put these new vehicles through their paces on the two circuits or out on the various road routes that are available," he said.

As well as these new vehicles, there will also be presentations from the Centre for Automotive Industry Research at Cardiff Business School; CENEX, the Centre of Excellence for Low Carbon and Fuel Cell Technologies; the University of Birmingham's Centre for Hydrogen and Fuel Cell Research as well as the global automotive consultancy, Ricardo.

On top of these presentations, Venson Automotive Solutions are to host a panel discussion session with specially selected guests who will be quizzed on a wide range of fleet topics and a Fleet and Mobility Workshop, chaired by Nigel Trotman, Head of Strategic Consultancy at international leasing company, Alphabet.