Vertu Motors awarded for excellent customer service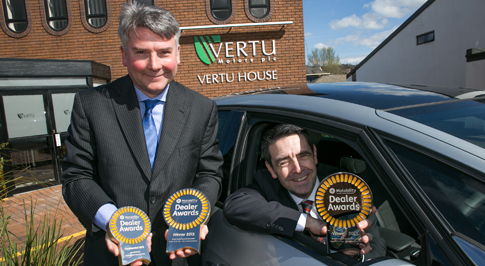 Vertu Motors PLC has been recognised for providing excellent service to Motability customers in a national awards ceremony.
The Group, which is the UK's sixth largest motor retailer, was awarded Dealer of the Year in two of the four categories in the Annual Motability Dealer Awards, as well as gaining Highly Commended in the Group of the Year category.
Gavin Gray, of Bristol Street Motors Vauxhall Newcastle was also Highly Commended in the Motability Executive of the Year category.
The awards are presented by the Motability Scheme, which enables disabled people to use their Government-funded Motability allowance to lease a new car, scooter or powered wheelchair. Since it was set up in 1978, it has helped more than 3 million people get mobile with a brand new vehicle.
Bristol Street Motors Newcastle Vauxhall was awarded Dealer of the Year in the Fleet Size of More Than 200 category, while Bristol Street Motors West Bromwich Ford was given the Dealer of the Year accolade in the Fleet Size of Between 80 and 200 category.
Gavin Gray, who has been a Motability Specialist for 25 years, said: "It is a real honour to be recognised by Motability in such prestigious awards. It is the customers who make my job so enjoyable – some have been coming to me for more than 20 years – and to know you can make a huge difference to people by helping them become more independent is the best thing about the job."
Robert Forrester, Chief Executive of Vertu Motors, said: "We are delighted that our work with Motability customers has been acknowledged at the very highest level with two awards and two high commendations. It's a clear sign from Motability that we are progressing in the right way, which gives us a great platform for continued success. Colleagues at all of our dealerships always make customer satisfaction their number one priority. I am extremely proud of the teams at all the dealerships involved and pleased to see their talent, commitment and hard work has been recognised with these awards."