Volvo XC90 delivers in-car experience like never before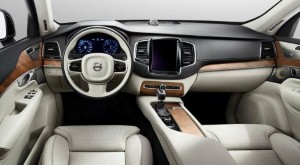 Volvo's new XC90 is looking to reinvent in-car entertainment, by completely doing away with the old aesthetic. The controls have been updated with a more streamlined, technologically savvy interface.

Drivers will now be greeted by a stylish, touchscreen system, which has been expertly integrated into the framework of the vehicle. This is further complemented by the inclusion of 'thumb controls' on the gorgeous steering wheel.

The company considers this development to be at the forefront of in-car entertainment and control systems. It makes driver easier, more intuitive and safer than ever before, as all the relevant buttons are located nearby.

Therefore, when adjustments need to be made, drivers can effortlessly modify things while still being in absolute control of the XC90. Their eyes are, to all intents, focused on the road ahead.

The new interface is designed to effortless and quick to grasp. In a short amount of time, drivers build up an 'intuitive understanding' of how to effectively use the system, with little eye movement off the road and with both hands on the steering wheel.

"Using the screen is so logical that it will become part of your muscle memory very quickly," explained Dr Peter Mertens, Volvo Car Group's senior vice president of research and development.

"Information, navigation and media are high up and easy to check. The phone controls, application icons and climate controls are located low and are comfortable to reach and touch. All of this logic is based on extensive usability and user experience research and the latest technology."

The Volvo XC90 is expected to be revealed fully later this year and marks an exciting chapter in the company's history.