Being a partner means big savings with Vauxhall and Bristol Street Motors.
VAUXHALL PARTNERS
Did you know if you or a member of your family works in one of the following sectors, or is an associated pensioner, then you could all be entitled to exclusive discounts on new Vauxhalls?
• Unions
• Education
• NHS
• Councils
• Communications, logistics and utilities
• Emergency services
• Civil Service
• Military
• Retail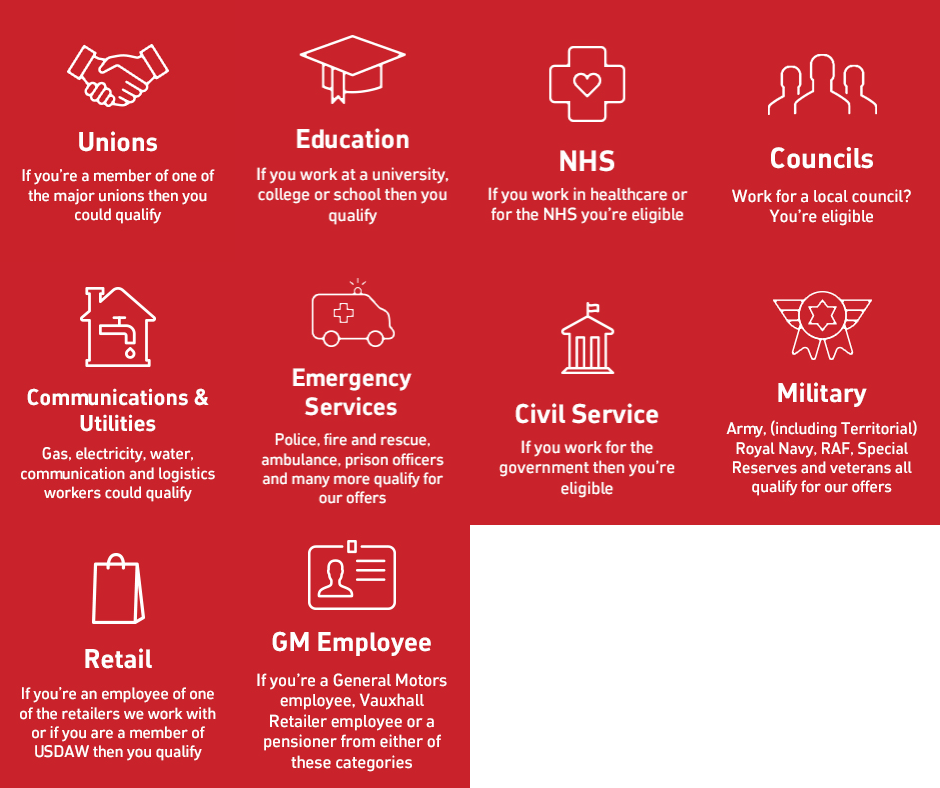 If you or your family qualify, you can benefit from our exclusive Vauxhall Partners discount across our range of new Vauxhalls.
HOW TO SIGN UP
It's easy to join Vauxhall Partners and nominate family members at the same time. Just visit the website https://www.partnersprogramme.co.uk using your login code. If you don't know your login code contact your HR Manager or similar or call: 0344 875 2448. When you've joined, simply nominate your family members to share your benefit with.
WHO IS ELIGIBLE?
Associate/Military Partners
• Partner or spouse*
• Parents and step-parents
• Brothers and sisters
• Step-brothers and step-sisters
• Children and step-children
Retailer Partner
• Partner or spouse
• Parents and step-parents
• Brothers and sisters
• Step-brothers and step-sisters
• Children and step-children
• Grandparents and grandchildren
• Aunts and uncles
• Nieces and nephews
• Sons-in-law and daughters-in-law
• Brothers-in-law and sisters-in-law
• Mothers-in-law and fathers-in-law
HOW EASY IS IT TO BUY?
Buying your new car is easy – once you've joined Vauxhall Partners, check out our latest offers here or simply visit your local Bristol Street Motors Vauxhall dealership to arrange a test drive.
Once you've decided on your chosen vehicle and the nomination has been verified, we'll then talk you through all of our latest offers, apply the appropriate discount on the vehicle of their choice and arrange all of the finer details to get you on the road in a shiny new Vauxhall. We may contact the registered or nominated party to see if they can offer any further assistance.
VAUXHALL PARTNERS
If you're a Vauxhall Motors employee, Vauxhall Retailer employee or a pensioner from either of these, you and your family will be eligible for a Vauxhall Partners discount too. So, you can spread the joy and all enjoy exclusive discounts on Brand New Vauxhalls.
* 'Common law' spouses or same sex partners are also eligible. To satisfy the Company that a genuine partnership is involved, a copy of either a utility bill or credit card statement bearing the same address as the employee must be shown to the Vauxhall Retailer at the time of ordering. For full terms and conditions please click here.
ENQUIRE BELOW FOR MORE INFORMATION
Your Details