A Closer Look at the New Nissan Townstar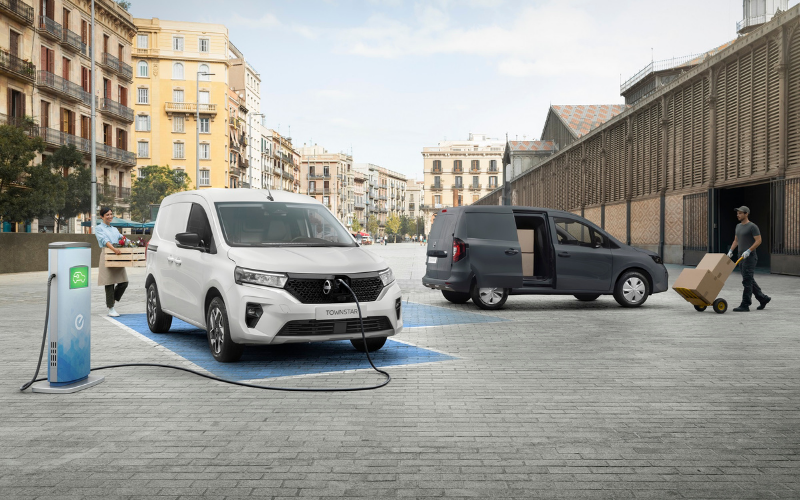 Nissan has revealed the new Townstar van which is set to hit Bristol Street Motors dealerships in June 2022.
The model will replace the e-NV200, building on its successes to work smarter and harder for modern businesses. Available in different sizes, trims and with the choice of an efficient petrol, or fully electric powertrain, it's set to provide flexibility and versatility in abundance.
Read on to learn more.
Efficient Powertrain Options
In a sustainability move, Nissan has discarded diesel. The two powertrain options available for the Townstar have been created with one common purpose in mind – city access.
The efficient ICE version is powered by a 1.3-litre petrol engine with a six-speed manual gearbox. This will suit those who aren't quite ready to make the switch to electric, who may need to travel longer distances, or who are traditional diesel van buyers that understand petrol will offer them an easy alternative.
The electric variant of the Nissan Townstar has been heavily based on the innovative Nissan e-NV200, which established itself as a forerunner in electric mass-market vans after its launch in 2014. The Townstar EV will suit businesses that are ready to embrace sustainable mobility and benefit from reduced road tax, and will also provide full urban access in cities with emission restriction zones.
The Townstar EV will embed the key successes of the e-NV200. For example, it delivers absolutely no compromise on load volume and payload compared to the ICE variant, comes with an impressive eight-year battery warranty, has the capacity for rapid DC charging, and the flexibility to be converted depending on your business needs. Not only does it match the e-NV200, it also offers enhancements - with an increased payload capacity of 100kg, an improved electric range of 186 miles, and comes with a suite of new technology systems to make your life easier.
Exterior
The new Nissan Townstar is a stylish vehicle. The EV variant has taken inspiration from Nissan's flagship ARIYA model and features the signature v-motion front end, with a gloss black grille and the new Nissan badging.
The petrol model has the typical ICE front end inspired by Nissan's LCV range - the grille has the same smart gloss black finish and features the new Nissan emblem.
One thing is for certain, the new Nissan Townstar certainly looks the business.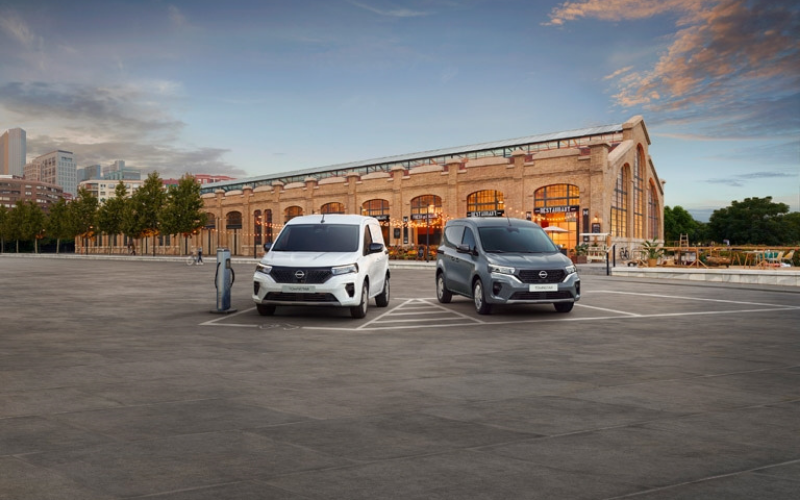 Interior
The front cabin of the new Townstar feels like that of a car. It is comfortable, and high-quality materials have been used throughout. With a 10-inch digital dashboard and a linked 8-inch infotainment screen, featuring an all-new graphic interface, all your connectivity requirements have been taken care of.
Simple piano switches control the heating, ventilation and air conditioning, and the dash is finished in a smart, Silver Grey which gives a clean and premium look.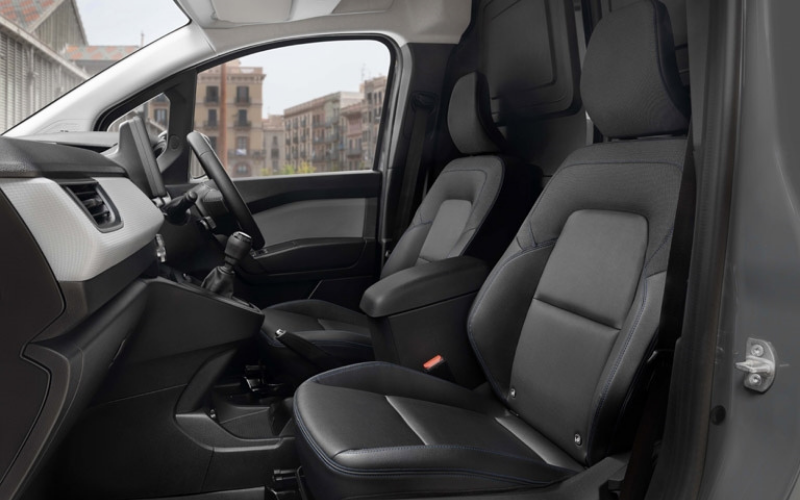 Technology
The Nissan Townstar will bring a plethora of new technology to the LCV segment; in total 23 innovations will be introduced from the popular LEAF, Qashqai and ARIYA passenger models. These can be broken down into four categories, and include:
SAFETY – Emergency Brake Assist, Lane Keeping Assist, Side Wind Assist, Blind Spot Warning, Acoustic Vehicle Alerting System (KANTO), Trailer Sway Assist.
DRIVING AIDS – ProPilot (EV only), Active Cruise Control, Traffic Sign Recognition, Auto High Low Beam, Hill Start Assist, Electric Parking Brake.
PARKING AIDS – Around View Monitor, Hands Free Parking, Front and Rear Park Assist.
CONNECTIVITY – connected services and apps, Apple CarPlay / Android Auto, mobile wireless charging, dual screen.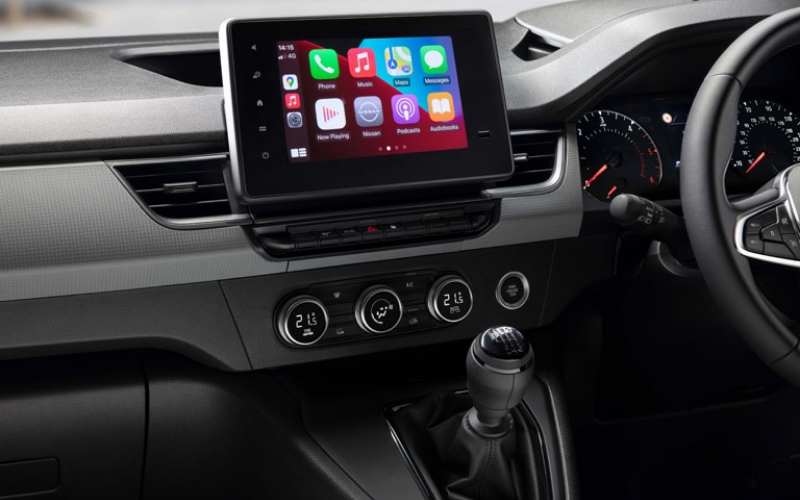 Specifications
Two bodylengths will be available for the Townstar (L1 and L2).
L1 highlights include a load capacity of up to 3.3m3 and up to 600kg of payload capacity.
L2 highlights include 4.3m3 of cargo space and up to 800kg payload capacity.
The table below details full specifications:
| | | |
| --- | --- | --- |
| | L1 | L2 |
| Length (mm) | 4,486 | 4,910 |
| Width (without mirrors, mm) | 1,860 | 1,860 |
| Height (unladen, mm) | 1,813 | 1,813 |
| Wheelbase (mm) | 2,716 | 3,100 |
| Side sliding door width (mm) | 615 | 831 |
| Maximum load length (mm) | 1,806 | 2,230 |
| Maximum width (mm) | 1,570 | 1,570 |
| Maximum width (between wheel arches, mm) | 1,248 | 1,248 |
| Maximum height (mm) | 1,215 | 1,215 |
| Payload (kg) | 600 | 800 |
| Load volume (m3) | 3.3 | 4.3 |
Crew vans are available on L2 versions of the EV and ICE models. These will feature glazed sliding doors, the option to seat five people with a foldable three-seater bench in the rear, a glazed bulkhead and plenty of load lashing rings to keep your goods secure.
Additionally, the Nissan Townstar can be converted into an array of different van styles depending on your business requirements. Some of the popular variants available are tipper, mobile catering, refrigerated, box van, utility, and XL.
So, if you're looking for a vehicle to drive your business forwards this year, look no further than the new Nissan Townstar. It will be available to pre-order from mid-March and in Bristol Street Motors Nissan dealerships from June 2022.
Keep an eye on our Newsroom for further updates or contact your local dealership for more information.