A First Look at the All-New Dacia Jogger
Dacia has announced details of its brand new 7-seater family car, which is due to hit UK roads early next year.
The Jogger will sit alongside the popular All-New Sandero, Sandero Stepway and New Duster models and will bring something completely new to the line-up, whilst maintaining the brand's value-for-money ethos. The model represents Dacia's outdoor, adventure-driven spirit, striving to make mobility accessible for all – including large families.
The new model is poised to offer something different to the typical 7-seater family cars currently on the market, having taken elements from numerous segments and combining these to deliver a truly versatile vehicle. Consider the length of an estate, the spaciousness of an MPV and the styling of an SUV - and you have the new Jogger. You can expect a price to space ratio which is truly unique to Dacia.
The Jogger will be just as much at home navigating urban spaces as it will be venturing through the great outdoors. With its spaciousness comes practicality in abundance, and numerous intelligent features including a modular roof rail and the innovative multimedia system, help to give it great family appeal.
The Jogger will be available in a choice of two engines, at launch. There will be a turbocharged petrol engine and a bi-fuel option, meaning Dacia remains the only manufacturer to offer a full range of bi-fuel models. In 2023, the Jogger will become available in a hybrid powertrain - the first hybrid model to be produced by the manufacturer.
So, if the All-New Dacia Jogger has caught your attention so far - read on to find out more.
Exterior Styling
From the front, a bold, wide grille is flanked by Dacia's signature Y shaped LED daytime running lights. LEDs consume less energy than standard bulbs but also provide the added benefit of a stronger, clearer light which makes nighttime driving much safer
From the rear, a wide tailgate and low load sill give great access to the boot - so even the bulkiest of items should fit in with ease.
Modular roof rails will be a hit with outdoor enthusiasts; these are able to hold anything from skis to bikes – with a carrying capacity of up to 80kg.
Dacia is also set to release a limited edition 'Extreme' model which will have some distinct off-road style modifications such as black roof rails, black door mirrors, black shark-fin antenna, black alloy wheels, grey rear skid plates, protective door strips and Extreme badging.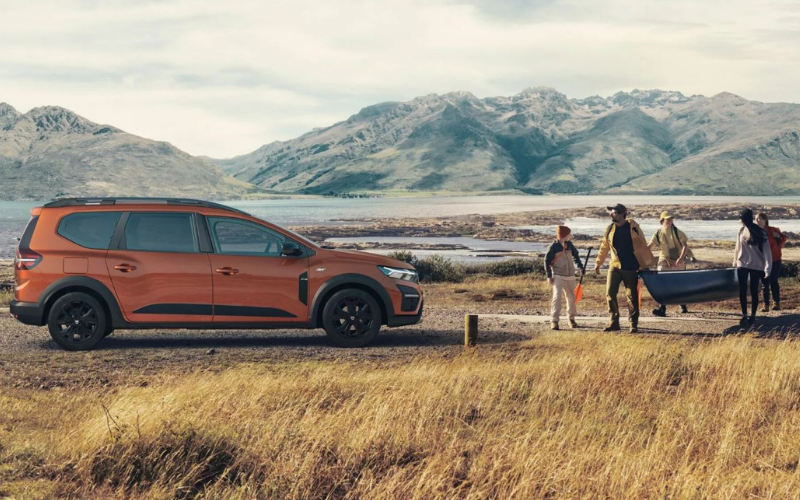 Interior and Features
The All-New Dacia Jogger will become the longest model in the range, with a length of 4.5m, this means that inside you will feel anything but cramped – even with a family of seven. It has three rows of seats, which can also be split and folded in more than 60 different ways to help make way for 1,819-litres of cargo space if required. The boot itself has a storage capacity of 213-litres and its long floor can easily accommodate equipment such as prams, bikes and hiking gear, without the need to fold down the third row of seats. Plus, lashing rings, hooks and elastic straps in the boot will also ensure cargo is safe and secure at all times.
Seats are also sculpted to provide ultimate comfort for even the longest journeys, and you can also expect climate control, a reversing camera, a hands-free card, floor mats for everyone and cargo mats all as standard.
Multimedia Technology
The All-New Dacia Jogger comes equipped with a choice of three multimedia and infotainment systems; Media Control, Media Display and Media Nav.
- The Media Control system uses a mobile phone docking station as its basis, allowing navigation, radio, music, phone, and vehicle information to be accessed and controlled through a smartphone, with voice recognition. Corresponding information will be displayed on a central 3.5-inch digital display.
- Media Display integrates four speakers to upgrade the audio experience. An 8-inch touchscreen replaces the Media Control docking station. Android Auto, Apple CarPlay, Advanced Driver Assistance Systems and vehicle settings can all be controlled from here.
- Media Nav adds wireless Wi-Fi connectivity, in-car navigation, six speakers and two USB ports.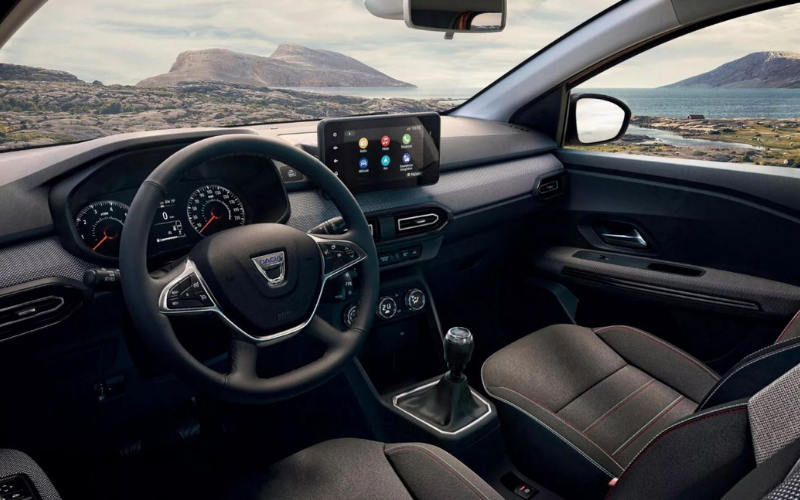 Engines
Two fuel-efficient powertrains will be available, including a new TCe 110 1.0-litre turbocharged petrol engine that boasts 110hp and 200Nm of torque, plus a TCe 100 Bi-Fuel engine which has an LPG and a petrol tank, giving 621 miles of range (WLTP).
In 2023, the Jogger will become the first Dacia model to feature hybrid technology, making it the most affordable 7-seater hybrid on the market. This will come in the form of a 1.6-litre petrol engine with two electric motors and a 1.2kWh 230V battery. Regenerative braking technology will help capture kinetic energy, and the vehicle will be able to spend 80% of its time in urban environments in full-electric mode - this should save up to 40% fuel compared to equivalent petrol-only models.
Safety and Driving Aids
All models include airbags and a range of Advanced Driver Assistance Systems, including Emergency Brake Assist, Blind Spot Warning, Park Assist, Hill Start Assist, Electronic Stability Control and speed limiter.
Further innovations are available on selected trims, including cruise control, heated front seats and electric parking brake.
The All-New Dacia Jogger will be available to pre-order in November 2021, with the first deliveries expected to arrive in the first quarter of 2022. Keep an eye on our Newsroom for further updates.
In the meantime, browse all of our new Dacia deals, or contact your local Dacia dealer for more information.