A Video Tour of the CUPRA Leon Estate e-Hybrid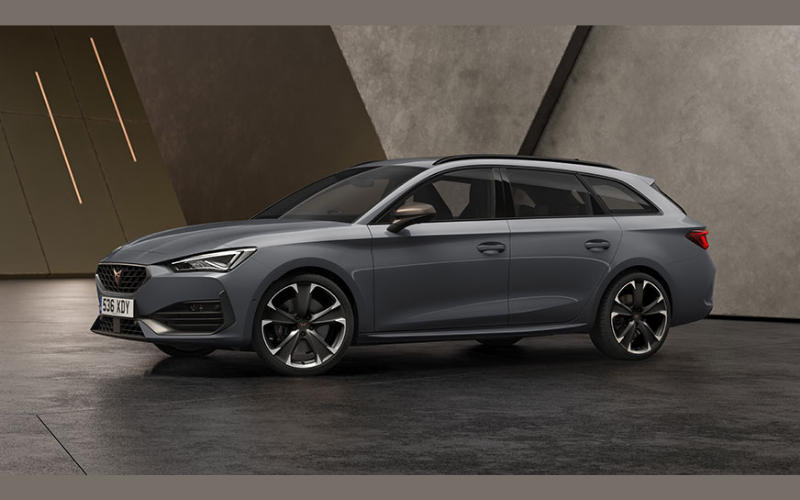 If you're searching for an efficient performance vehicle that has enough room to comfortably transport multiple passengers and/or bulky bits of kit, the CUPRA Leon Estate e-Hybrid could be exactly what you're after.
Take a look at our full vehicle tour below, or read on for more information.
Exterior
From the front, you'll notice at first the striking copper CUPRA badge housed within the grille. The sleek grey grille frame creates a cascading effect that really draws your attention to the front of the vehicle. Additionally, full LED head-and-fog lights, and stylish 19-inch multi-spoke alloy wheels create a real sporty aesthetic.
The charging port sits just above and behind the front passenger wheel and can be accessed by pressing gently on the door flap. Four hours of charge from a home Wallbox should give you around 32 miles of emission free, electric driving – ideal for trips around town.
Moving further around the side of the vehicle, folding wing mirrors that feature full LED indicators are also heated to aid visibility in icy or snowy conditions.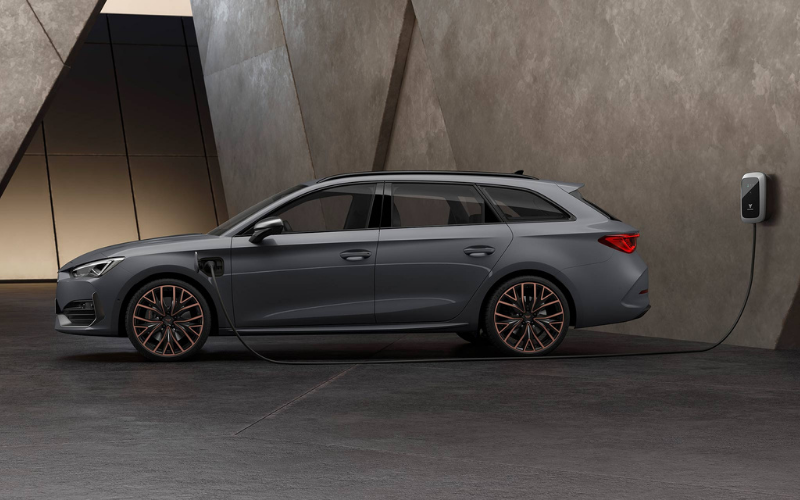 Gloss black window surrounds, gloss black roof rails and privacy glass all contribute further to the sporty aesthetic, whilst rear elements such as triangular LED taillights, full LED coast to coast lighting and the smart CUPRA logo that doubles up as a boot latch, draw attention from behind.
Opening the tailgate reveals a large boot with an impressive cargo volume of 470 litres. Plus, the wide, flat floor makes loading and unloading an absolute breeze.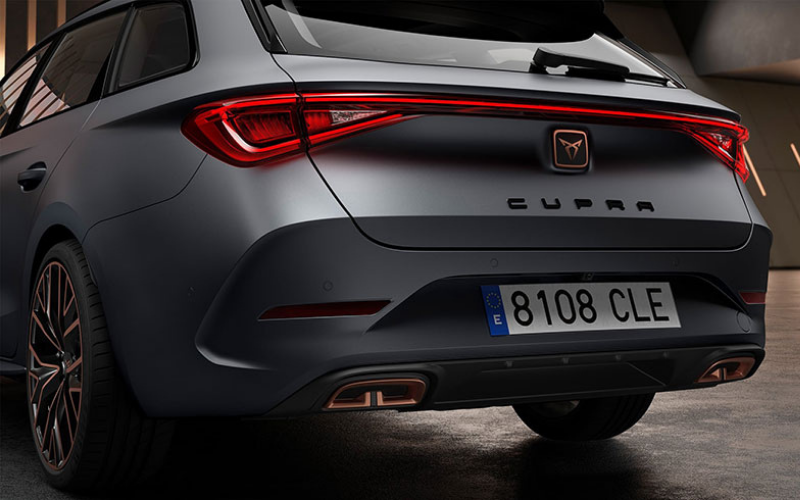 Interior
Rear passengers won't be short on space in the CUPRA Leon Estate, with plenty of leg and headroom on offer. The armrest with built-in cup holders, USB charging ports and climate controls make the back a truly comfortable spot to sit.
In the driver's seat, your attention will immediately be drawn to the digital dashboard, which is fully customisable to your specific needs.
The steering wheel has been designed to optimise driver experience, with buttons for Cruise Control, the digital dash, and handy paddles for shifting gears all at your fingertips.
A copper trim features on the steering wheel and spans across the heating vents, whilst ambient lighting allows you to set the colour of the cabin according to your mood.
An intelligent 10-inch touchscreen sits in the centre of the vehicle. Toggling through the menu will display functions for satellite navigation, radio, Bluetooth connectivity, wireless Apple CarPlay and Android Auto.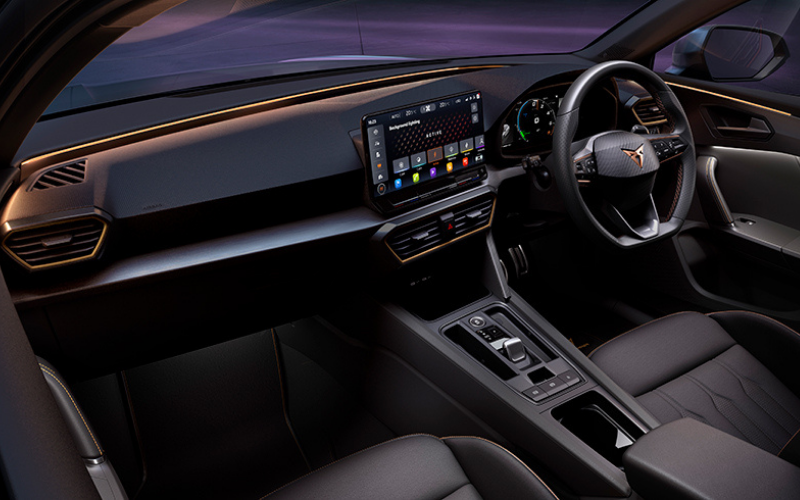 A wealth of data can also be accessed through the central touchscreen, showing your vehicle status and driving metrics. You can select your driving mode from the pre-set functions, or create your own custom mode by mixing and matching the elements you like the most. You also have the option to choose whether you want to drive in electric or hybrid mode depending on the conditions, and regenerative braking also works to self-charge the vehicle whilst you're on the move.
It's possible to change certain vehicle settings via voice command too thanks to some impressive technology. For example, if you want to adjust the temperature you can do so by telling the vehicle that you're too cold or too hot!
The CUPRA Connect App is another handy bit of tech that allows you to remotely check and adjust various vehicle settings, including locking or unlocking your car, turning air conditioning on or off, and a particularly handy tool in winter allows you to start window heating to defrost your car before you get to it - meaning and end to mornings stood outside with an ice scraper in hand.
Sports style bucket seats also feature smart copper stitching, and the leather outer edges really help hold you into the seat, especially when handling corners.
The CUPRA Leon Estate e-Hybrid is a vehicle that gives you the performance you'd wish for from a hot hatch, alongside the practicality you'd expect from an estate. It's packed full of useful technology, and on the outside, sharp styling is bound to turn heads. Plus, don't forget - you'll get all of the above with the added benefit of an efficient hybrid powertrain.
Follow the links below for more information on the CUPRA Leon Estate.
View Our CUPRA Leon Estate Offers