Alfa Romeo launches the Alfa MiTo Quadrifoglio Verde SBK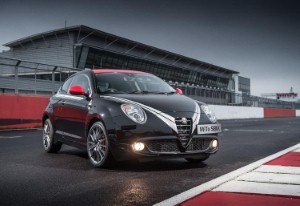 Alfa Romeo has provided its limited-edition Alfa MiTo Quadrifoglio Verde SBK vehicle with a truly spectacular launch.

The vehicle in question is the product of a multi-year collaboration that has formed between the well-loved Italian manufacturer and the FIM World Superbike Championship.

In order for Alfa Romeo to honour this partnership, its Alfa MiTo Quadrifoglio Verde SBK combines the manufacturer's passion for style and elegance with the FIM Superbike World Championship's constant guarantee to offer motorsport fans with excitement and a competitive edge.

Just looking at the outside the Alfa MiTo Quadrifoglio Verde SBK, drivers will be in awe of the car's stunning 18-inch alloy wheels, its bold red Brembo brake callipers and a racing body kit that spreads across the vehicle's side skirts and rear lower spoiler.

What's more, the fact that the unique vehicle is finished in a solid black paintjob with an Alfa Red roof helps the motor to stand out on the road.

The inside of the Alfa MiTo Quadrifoglio Verde SBK is also a joy to behold, with the cabin highlighted by the inclusion of red stitched Sabelt Alcantara sports seats with carbon fibre backs and a leather steering wheel and gearstick patterned in sleek red stitching.

In order to give its eye-catching new MiTo model a launch which motorists will remember, Alfa Romeo took the vehicle out for a spin around the iconic Silverstone circuit.

This was no ordinary lap, however, as stunt driving ace Paul Swift managed to drive the MiTo onto two wheels around the track's famous Brooklands bend, while pro bike ace Chris 'The Stalker' Walker undertook the car aboard a Kawasaki ZX-10R Ninja British Superbike.

Motorists can experience the thrill of driving an Alfa MiTo Quadrifoglio Verde SBK for themselves when the vehicle launches across the UK in the weeks ahead.