All-new Mazda 6 packs in more performance without any compromise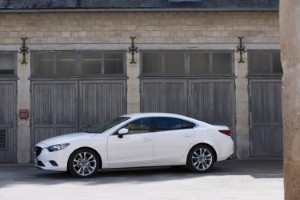 The newest addition to the Mazda 6 family is set to present drivers with a top level of performance without the Japanese car giant having to downsize the vehicle's engine.

All of this has been made possible thanks to Mazda's innovative SKYACTIV technology, which also enables the vehicle to boast excellent fuel economy statistics.

SKYACTIV has been assembled with the aim of allowing engineers to deliver upper medium-segment leading environmental-friendliness, without having to resort to smaller engine displacements.

This is evident on the 'low-power' variety of Mazda's 2.2-litre SKYACTIV-D, which is being assembled onto the new Mazda 6. The engine is capable of presenting 150ps and CO2 emissions of just 108g/km – the lowest figure in the class.

Rounding out the appealing environmentally-friendly characteristics is the fact that this motor can also produce 67.3mpg.

Steve Tomlinson, head of fleet at Mazda, explained: "The all-new Mazda6 is the no compromise choice for company car drivers. They can have power, performance and driving fun with low emissions and excellent fuel economy due to our SKYACTIV technology.

"That cannot be obtained from rival manufacturers who have resorted to smaller engine displacements in pursuit of emission and fuel economy improvements."

As well as being very environmentally-friendly, motorists who invest in a 2013 Mazda 6 will also have a raft of technological treats awaiting them once they step behind the car's steering wheel.

This is because the vehicle comes fitted with a Dynamic Stability Control with Traction Control System as standard, as well as the ability to switch to cruise control and a full air conditioning unit.

An integrated Bluetooth and Mazda Multimedia system, presented on a 5.8-inch colour touchscreen display, should provide plenty of entertainment, as should a satnav system complete with TomTom technology.

The all-new Mazda 6 hits roads across the UK in January and will be offered in both Saloon and Tourer chassis styles.

On top of this, drivers can also choose between two diesel and two petrol engines upon release, as well as the six trim styles of SE, SE-Nav, SE-L, SE-L Nav, Sport and Sport Nav.