Back To School Road Safety Tips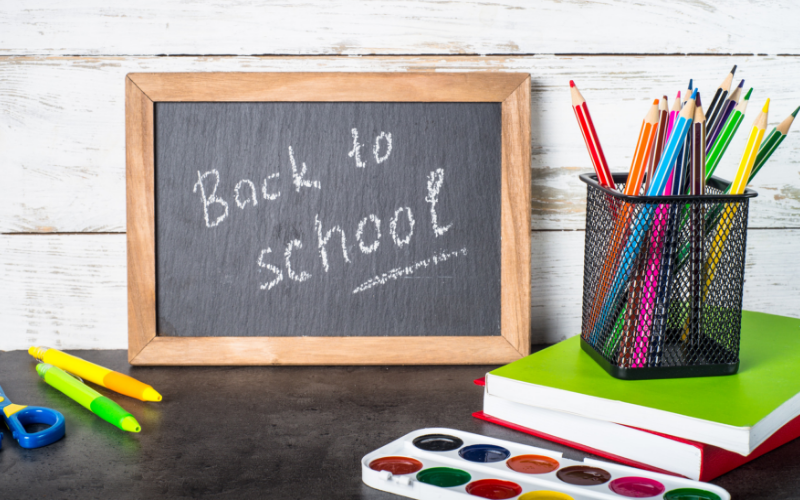 As the school holidays draw to a close, it's time to get prepared for those morning school runs.
You might not be ready for the 7am alarm or the fight to get the kids dressed and out the door on time, but the new school term is nearly here, so we've put together a guide on back to school road safety tips to help you on your way.
It could be your child's first-ever day at nursery, or their first time walking to school on their own (they grow up fast!).
Either way, there are lots of road safety tips to take into consideration to avoid accidents, congestion and being late to school!
Car Checks
The first day of school can be an emotional day for all parents, no matter what year their little cherub is going into.
However, it can be even more emotional when it's their first EVER day – where did that time go?
When driving with young children, remember to double-check that their car seat is the appropriate size for them and is fitted correctly.
Even if you only drive ten minutes down the road, it is best to check the basics of your car at the beginning of the new school term.
If you've been road tripping for the past six weeks, or going here, there and everywhere to entertain the kids, your car will probably need a little bit of TLC.
From tyre pressures to oil levels, just make sure your car is in tip-top condition! You don't want to make the kids late because you've got a flat tyre; the Headmaster's office isn't the place they want to end up in on their first day back!
Driving
As the school term begins, the volume of traffic and pedestrians will inevitably increase, meaning that you need to be more aware of your surroundings when driving.
There will be an array of vehicles to pay close attention to.
School buses will be stopping and starting to pick up the children along the way, and many children may be cycling to school. Make sure you check your blind spot when overtaking and pay close attention to the indicators of buses.
It is also best to leave more distance than normal between you and a bus to allow you more time to stop when there are children to pick up.
When the bus does stop, avoid overtaking. The area around the bus is the most dangerous. Children running late may be solely fixed on making the bus and not take time to check hazards. When they arrive at school, they may be keen to get in the schoolyard to see their friends and may cross at the front of the bus.
The same goes for pedestrians. Keep to the speed limit, drive slowly and be aware of anyone suddenly stepping out on the road.
Once you've arrived at the school, the drop off can be quite dangerous.
Things like double parking can cause major congestion, so we suggest you park up in any available space, which is a safe place to unload the kids.
Being vigilant is key to making sure you and everyone arrive at the school gates safely.
Walking
If you live close enough, walking is a great way to increase your daily step count and to keep the kids active!
However, there are still road safety tips you need to remember when you and your children are walking to school.
As more traffic is on the road, you need to be extra cautious when crossing the road. Cyclists can sometimes be difficult to spot, so make sure you really look closely when looking left and right.
Make sure you cross at designated crossings, such as zebra crossings or traffic lights, waiting for the green man or the lollipop lady to cross you over safely.
If you have young children, use the walk to school to teach them about road safety.
Discuss with them where and how to cross a road safely, and emphasise the importance of them keeping hold of your hand when crossing. You can even get them involved by checking left and right themselves and giving you the signal to cross if it is safe!
For many of you, this new school year will be the beginning of your children becoming more independent (which can be just as emotional as their first day at school all of them years ago).
If your son and daughter are too cool to be seen with you and are now at the age where they can take themselves to school, just make sure they know the safest route.
Biking
They may bike to school, which might be a good chance to refresh them on their cycling proficiency test!
Quiz them to see if they can recall what they have learned, and even if they can't remember, it gives you the chance to tell them again, preparing them for the ride to school.
Of course, if they do take a bike, it goes without question that they need to have a correctly fitted helmet too.
Time Management
Finally, it's not just safety you need to take into consideration on the back to school run.
As more traffic will be on the road, your ETA will increase. Set off with enough time in case you hit the morning traffic jam.
Although, we know this is easier said than done.
When you have a five-year-old still eating their toast at 8am, or a teenager who won't get out of bed, we understand that sometimes the school run can be a bit of a rush.
But, as long as you keep in mind the back to school road safety tips, we're sure you and your child will receive a gold star this term for the school run.
Happy New School Term!