Be eco-friendly and win a Fiat 500 TwinAir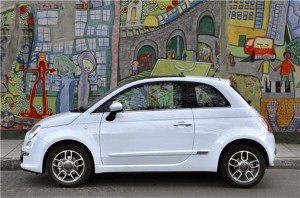 A new Fiat 500 TwinAir is up for a grabs in an exciting Europe-wide competition, which aims to test the environmental prowess of motorists through Fiat's award-winning eco:Drive.

Motorists interested in the competition are advised to download free of charge the eco:Drive application, which works with Fiat's Blue&Me entertainment and communications system.

Information about their driving style will then be recorded by eco:Drive on a USB port and an eco:Index score will be awarded, after which they could win an opportunity to go to Italy to compete in an eco:Drive GP grand final where they could also win a new car.

According to Elena Bernardelli, marketing director of Fiat Group Automobiles UK and Ireland, the competition is a "wonderful" opportunity for Fiat users whose vehicles are fitted with eco:Drive.

"Not only will it encourage people to think about how they are driving, but it also provides the opportunity for an exciting trip to Italy and the chance to win a great car," she said.

The Fiat 500 has received rave reviews since its launch, with Jeremy Clarkson saying in the Sunday Times that "it looks fantastic".