Bristol Street Motors Nissan Ilkeston Scores For Heanor Junior Footballers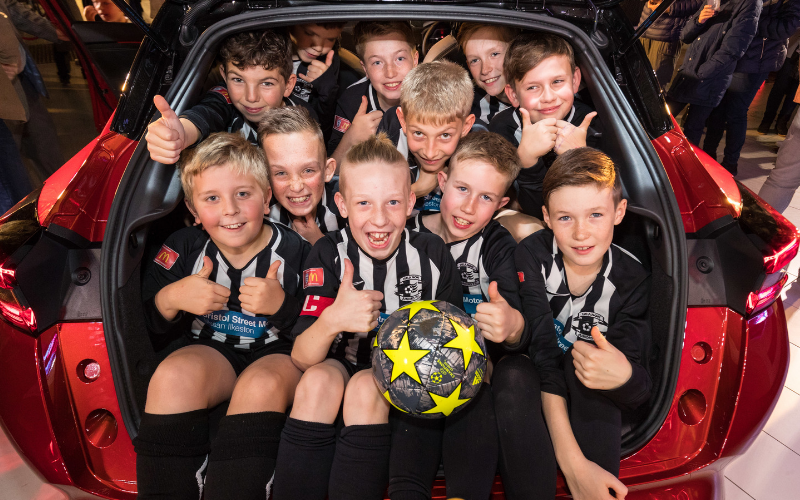 Bristol Street Motors Nissan Ilkeston has lent its support to Heanor Juniors U11s Titans with a two-year shirt sponsorship deal.
The dealership has also provided training jackets and Man of the Match and monthly award trophies.
Heanor Juniors was founded in 1997 and currently operates teams from under 7s to under 18s. It achieved FA Charter Standard Development Club status in 2003, the first club in the Amber Valley to achieve the prestigious accreditation which recognises a commitment to quality and safety. The club also has a development squad for ages 4-6 before they can participate in match scenarios. To support this each year the club puts on Football for Fun for free to help encourage young girls and boys to participate without cost to see if it is something they enjoy. Each year this gets bigger and bigger.
James Ashley, sales manager at Bristol Street Motors Nissan Ilkeston, said: "Heanor Juniors is a fantastic community football club with a hard-working committee of volunteers who keep it running.
"As a community-focused business, we were delighted to have the opportunity to support the Under 11s who will wear our kits this season and, as Under12s, next season. It is important that businesses give something back to the area they work in, and sport is so important for young people, to bring them together and teach life skills such as teamwork and discipline. We couldn't think of a better organisation to support and we'll be cheering them on throughout the season."
Kerry Bird, child welfare officer and media representative at Heanor Juniors, said "We are proud and delighted to be sponsored by such a reputable and well-known company in the local area. As a non-profit organisation, it is always difficult to find funding to support the club so to have them approach us and offer to sponsor us for two years, we are extremely thankful. They also helped us raise money for the club at our summer tournament by donating a Nintendo Switch to one lucky winner of the 'keepy-uppy' challenge. We are extremely grateful for all their support"
Players of the club Alfie and Dylan added "The kits and coats look awesome and having kits as good as these make us play with more confidence knowing we look great so we just need to play great. Thank you Nissan Ilkeston"
Sue Bonnington club secretary said "As secretary of Heanor Juniors FC we are grateful for the sponsorship the club has received from Bristol Street Motors Nissan Ilkeston. They have generously provided kits and coats for our under 11's team for the next two years, in addition to supporting our fund-raising activities. We are proud to be associated with such a reputable company and appreciate their ongoing support of young people in our local community. Our club is committed to providing opportunities for youngsters to enjoy football in a safe and structured environment and support from local companies is vital to help the club achieve the best we can for our members"