BSM steps in to save Hartlepool's Shopmobility scheme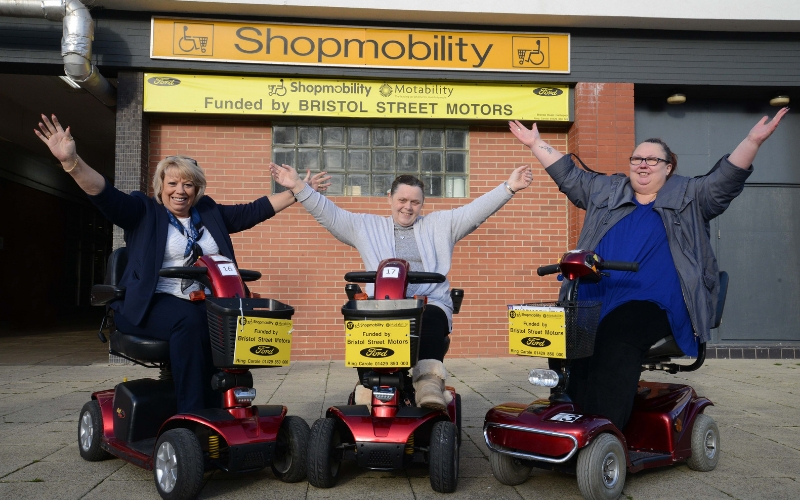 Bristol Street Motors Hartlepool Ford is helping local shoppers with mobility issues to stay on the go after stepping in to plug Shopmobility's funding gap.
The dealership, which is situated on Brenda Road, is supporting the scheme to enable it to continue its work empowering people with mobility problems to have the same opportunity to enjoy shopping in Hartlepool.
The Shopmobility Project, based at Middleton Grange Shopping Centre, loans scooters, power-chairs and manual wheelchairs to people with limited mobility to enable better access to Hartlepool. It also offers a weekly loan service for manual wheelchairs and scooters as well as offering a disability information and advice service.
Bristol Street Motors stepped in to provide support to Shopmobility, which is run entirely by volunteers and supports around 30 people each day, after discovering it had run into financial difficulties.
Carole Brothwell, a Motability Specialist at Bristol Street Motors Hartlepool Ford, who facilitated the arrangement spends every Thursday afternoon at the Shopmobility centre supporting the volunteers and advising clients how they can access the Motability Scheme.
The Motability Scheme enables disabled people to exchange certain benefits for a new car, scooter or powered wheelchair. Since it was set up in 1978, Motability has helped more than three million people get mobile with a brand-new vehicle.
Carole Brothwell said: "I am passionate about supporting people with disabilities to stay mobile and be independent, which is why I got in touch with Shopmobility to see how Bristol Street Motors Hartlepool Ford could help.
"It's fantastic we have been able to help Shopmobility and the people who use its services. I come down every week and love the time I spend here, talking with clients and helping them to get be as independent as possible."
Tina Donelly has been using Shopmobility in Middleton Grange since she was diagnosed with multiple sclerosis. She said: "I got in touch with Shopmobility to help me into a scooter when I get here. It makes life a lot easier because I can drive up and get a parking space, without having to worry about it and they bring the scooter out to the car. I can then just transfer into the scooter and be off around the town, do all my shopping and come back.
"They are very accommodating. They help me into the car and put the shopping in as well. They are just such lovely people."
Rachel Randall, Manager at Shopmobility said: "Hartlepool Shopmobility has been open for almost 25 years, but in the last couple of years we have had to be self-sufficient, and secure our own funding.
"We feel blessed that Carole from Bristol Street Motors Hartlepool Ford has helped us to keep Shopmobility going, in addition to helping our customers for advice and supply of their vehicles on the Motability Scheme."