Chevrolet steps up European trading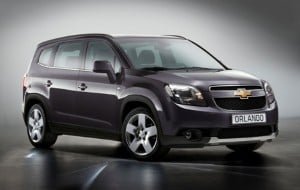 Chevrolet hopes to be selling one million cars per year in Europe by 2015, the company reports.

Last year, the manufacturer sold a total of 420,000 vehicles across the continent, growing from 140,000 six years earlier.

The firm is looking to step up its European marketing in order to promote new products from its manufacturing unit in South Korea, which will replace 'legacy' vehicles inherited from the now-bankrupt Daewoo Motors.

Design chief Taewan Kim stated that the company is working on a new, as-yet-unnamed SUV model based on the Aveo platform that could prove popular in Europe.

Mike Arcamone, president and chief executive officer of the GM-Daewoo Automotive Technology Company, stated: "Chevrolet will be more of a value brand. By that we do not mean cheap. As our new products are launched they will be providing added value - more car for your money."

Chevrolet will launch the new Orlando small SUV in Europe in mid-2011 after unveiling the vehicle at the Paris Motor Show earlier this month.

It also debuted the new Captiva, Aveo and five-door Cruze models at the trade exhibition.