Chevrolet to unveil new Captiva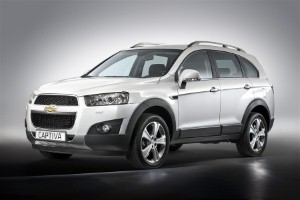 Chevrolet is set to reveal another new model at the Paris Motor Show.

The new Captiva SUV will be displayed publicly for the first time at the show, boasting a sporty exterior and enhanced interior.

According to the company, the new vehicle features confident and dynamic styling and an on-demand all-wheel drive system.

The SUV will be available with a choice of three engines – one 2.4-litre petrol and two 2.2-litre turbo-diesel variants.

Chevrolet notes that the original Captiva has proved popular among customers since its launch in 2006.

The company states: "Captiva offers a lot of SUV for its price: powerful, yet efficient engines, all-wheel drive capabilities, roominess and versatility for up to seven passengers."

It is thought the new model will be available in Europe in spring 2011.

Chevrolet will also showcase its new Orlando, Aveo and Cruze five-door models at the Paris Motor Show on September 29th.