Chevrolet to release sporty Cruze Hatchback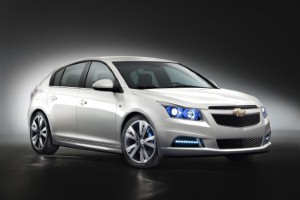 Chevrolet has announced plans to unveil a new version of its popular Cruze model at the Geneva Motor Show in March.

The model will be similar to the Cruze Hatchback, showcased at the Paris Motor Show last year, but featuring coupe-inspired style and sporty performance.

Equipped with a 163PS six-speed engine, the same found in the Chevrolet Orlando, the car features a sweeping roofline and sleek profile that bring it in line with many of the manufacturer's most stylish offerings.

Chevrolet notes that since its release in 2009, the four-door Cruze has "exceeded sales expectations" across the globe.

"Motor sport is part of Chevrolet's DNA. What we learn on the track is passed down to our road cars, and this latest incarnation of Cruze proves that," said Chevrolet managing director Mark Terry.

The Cruze Hatchback will go on sale in the UK in summer 2011, with specifications and pricing to be confirmed.

Chevrolet launched its practical seven-seater Orlando MPV in December last year.