Orlando marks 'a new future' for Chevrolet.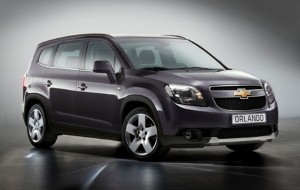 The Chevrolet Orlando marks "a new future" for the manufacturer, it has been claimed.

According to a review published on Honest John, the seven-seat multi-purpose vehicle (MPV) easily tops its predecessor the Tacuma, offering a spacious interior and strong styling.

It notes the choice of three petrol and diesel engines, as well as the fact that the model is loosely based on the Chevrolet Cruze.

"[The Orlando] stands out thanks to chunky styling which seems to be a combination between MPV and crossover, if such a thing exists. But the main thing is that it's distinctive and, dare we say it, quite handsome too," the reviewer stated.

Most importantly, the article notes, the Orlando is practical and offers a good seat configuration for travel-sick passengers, while Chevrolet's five-year, 100,000-mile warranty offers customers peace of mind.

Other positive features noted by the reviewer include customisable seating configurations, large amounts of storage space and its audio system with USB port.

According to Chevrolet, the Orlando offers "high design at an affordable price".