Citroen Ami Takes 'Technology Award' In Auto Express New Car Awards 2021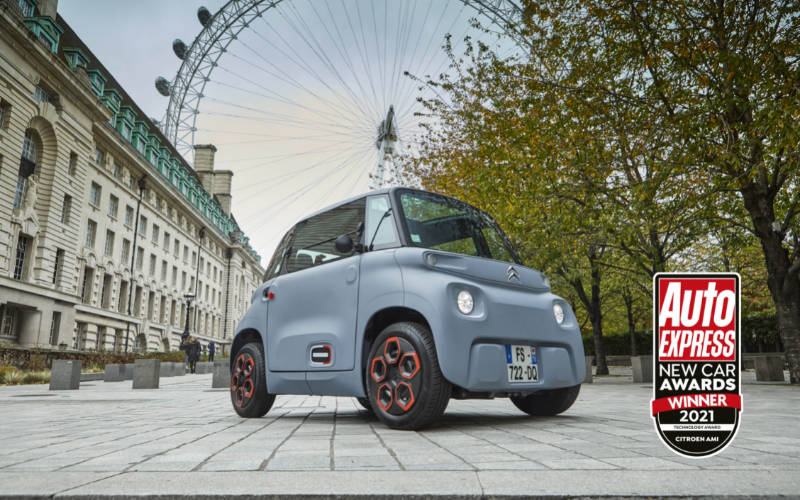 The Citroen Ami received the 'Technology Award' in this year's Auto Express New Car Awards.
The 'Technology Award' follows from the AMI's previous success in the BBC Top Gear magazine Electric Awards 2020 and in the GQ Car Awards 2021, where it was named 'Microcar of the Year'.
The Citroen AMI was introduced in 2020 as a response to the challenges of future mobility, with a focus on environmental awareness.
With a range of up to 43 miles and a 5.5 kWh battery, the Citroen AMI takes just three hours to charge from a standard electric socket.
With its ultra-compact 2.41m length and 7.20m turning diameter, the Citroen AMI is the ideal vehicle for navigating urban life.
Steve Fowler, Editor-In Chief of Auto Express, commented: "The Citroen Ami lands its killer blow in our Technology Award with some exceptionally clever, almost Alec Issigonis-levels of thinking. Here, the Ami nails its brief perfectly. The smart design and engineering has a laser-like focus on simplicity and cost. It is perfect for congested city streets; a minute turning circle and wheel on each corner stance matter more here than its 28mph top speed. Most of all, though, the Ami is enormous fun."
Following rigorous testing, assessment, and insightful reviews from the expert panel of Auto Express judges, the Auto Express' New Car Awards celebrate the best models and technologies each year.
As well as covering categories that are suited to all vehicle types, including city cars, luxury models and alternative fuel vehicles, Auto Express also calls attention to automotive innovation, technology and engineering within the New Car Awards.
Eurig Druce, Managing Director of Citroen UK, commented: "I was very pleased to hear the news that Auto Express has recognised Citroen AMI as the winner of its 'Technology Award' in this year's New Car Awards.
"Citroen AMI stands as testament to the hard work and dedication that our team puts into developing automotive technology and innovation, striving to provide people with mobility solutions to suit all needs. Since its reveal last year, Citroen AMI has received high praise from the public and judges alike."
Keep an eye out for more Citroen updates in our newsroom.
Why not take a look at the fantastic range of new Citroen deals we currently have available on our website?