Citroen and Seb Loeb take to the world stage in the new C-Elysee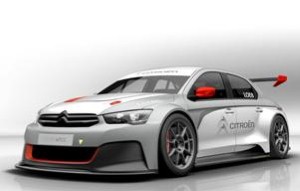 Race on Sunday; sell on Monday. That's what they say about building racing cars out of road cars for competition. If customers see the cars performing impressively on the track, they may well be persuaded to part with their new-car-cash in exchange for that excitement.

This is perhaps what Citroen hope to achieve with their latest racing project; with their new 3-box saloon, the C-Elysee, and driver Sebastian Loeb in the World Touring Car Championship, or WTCC, for the 2014 season.

As we can see, the new C-Elysee WTCC is a serious bit of kit. We've got large, multi-spoke 18-inch wheels, a racing front bumper with a built-in aerodynamic front splitter, wide front and rear wings and, of course, an enormous rear spoiler to push the car into the track, creating extra grip.

There's a tried and tested engine under the bonnet – the same as used in Citroen DS3 World Rally Car - a 1.6-litre, 4-cylinder, direct injection turbocharged petrol engine, that makes some 380bhp. The power is sent to the front wheels via a racing-spec, 6-speed gearbox. And with a weight of around 1,100kg with the driver, we've got a rather potent power-to-weight ratio here.

Sebastian Loeb is one of the greatest drivers of all time, with nine world rally championships under his belt, and Citroen know how to build a strong and fast race car. This could well be a dream WTCC dream, and a great marketing opportunity for Citroen.