Citroen Berlingo Electrique to be displayed at 2013 Commercial Vehicle Show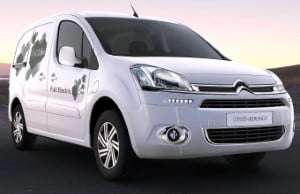 French vehicle maker Citroen has announced it is to show off its all-new Berlingo Electrique van at this year's Commercial Vehicle Show.

The motor stands out for being a 100 per cent electric van, which expands on a range Citroen initially got to work on with the launch of the first-generation Berlingo Electrique back in 1998.

In order to keep on improving the Berlingo Electrique, the latest model incorporates the must up-to-date forms of electric vehicle technology.

This is highlighted by the fact that an electric motor can be located under the bonnet of the van, while a lithium-ion battery pack is installed underneath the vehicle's load deck.

From a design perspective, this means that the new-generation Citroen Berlingo Electrique is able to boast a load compartment of up to 3.7m3 and payload of 636kg – exactly the same proportions afforded to a diesel-powered Berlingo van.

When it comes to taking the van out on the road, the electric units combine to create a total battery capacity of 22.5kWh, which translates to a maximum range capacity of 106 miles.

Once the power begins to fade on the all-new Berlingo Electrique, motorists can use a domestic socket to fully charge the vehicle in an estimated eight and a half hours.

However, those in a rush should make use of a specific 380V three-phase terminal in quick-charge mode, which is able to charge the van to 80 per cent of its capacity in a mere 35 minutes.

The eye-catching technological features of the Citroen Berlingo Electrique continue when stepping behind the wheel of the electric van. This is because an on-board dashboard system displays a raft of eco-driving information to drivers, including an energy consumption/regeneration indicator, an auxiliaries consumption gauge and an instantaneous energy consumption gauge.

Motorists can witness the treats on offer with the next-generation Citroen Berlingo Electrique van with their own eyes when it is displayed at the 2013 Commercial Vehicle Show. The event takes place at the Birmingham NEC between April 9th and 11th.