Citroen Launch The C5 Aircross Plug-in Hybrid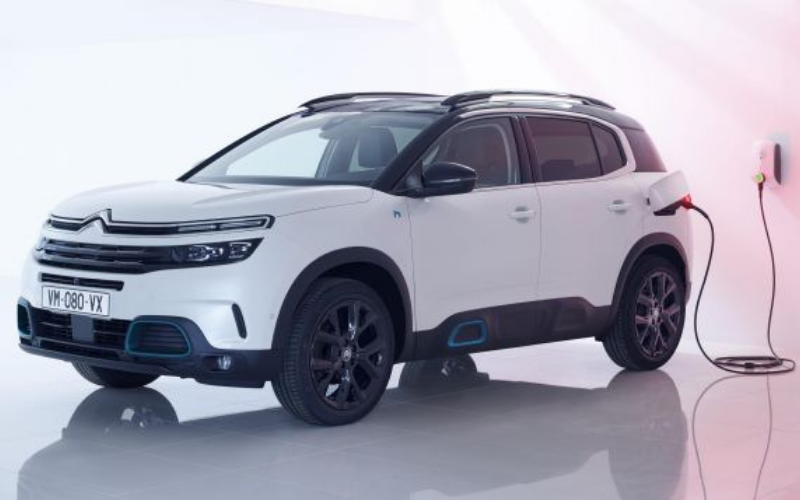 The Citroen C5 Aircross has been electrified, and the PHEV is now available to order.
Citroen plans to electrify 80% of its models by 2023, followed by its whole range of vehicles by 2025, beginning with launching its first plug-in hybrid now and continuing to add to its electric range every year.
The hybridised C5 Aircross features a 1.6-litre petrol engine and a 13.2 kWh, lithium-ion battery. Combining the two, the Citroen C5 Aircross PHEV is expected to produce 222bhp and 320Nm of torque, making it powerful and quick off the mark.
The C5 Aircross Hybrid is expected to be able to travel up to 31 miles on the electric battery alone and has the ability to be recharged to 100% in less than 2 hours when plugged into a fast charger.
Inside, the Aircross Hybrid will offer a comfortable journey and will be easy to operate. It will also offer new features that are not found in its predecessors, including an eight-inch infotainment system and a blue exterior trim for a sleek addition.
Citroen envisions this model as a solution for customers who are looking for a "two-in-one" experience. With the Citroen C5 Aircross PHEV, customers will be able to undergo their daily commutes on zero emissions and also have the capability to go further with the internal-combustion engine.
With an all-electric range of up to 31 miles, the C5 Aircross Plug-in Hybrid gives customers ample range to be able to go about their daily commutes without compromising the environment.
The hybrid is available to order now, with prices starting from £35,340, and is expected to drive onto UK roads in the middle of next year.