Citroen Reveals The All-New C5 X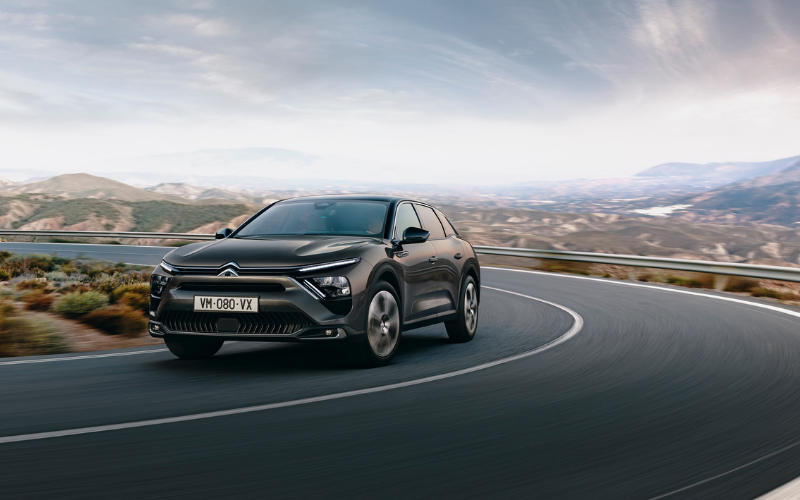 Citroen has revealed its all-new C5 X, adding a new dimension to the large car segments with its distinctive and unique design.
The C5 X uses innovation to combine the sophistication and comfort of a saloon with the space and versatility of an estate.
Offered with both plug-in hybrid and petrol powertrains, the CX 5 excels in keeping up with the high expectations of customers in the SUV segment.
Advanced technologies will increase the feeling of well-being as they help make driving more simple and less stressful.
Vincent Cobee, Citroen's CEO, commented: "With new C5 X, Citroen has created an ambitious, large touring vehicle, a real tool for winning over customers who are increasingly inclined to explore the world. An audacious and original proposal that truly embodies all of Citroen's expertise: innovation, care and above everything well-being."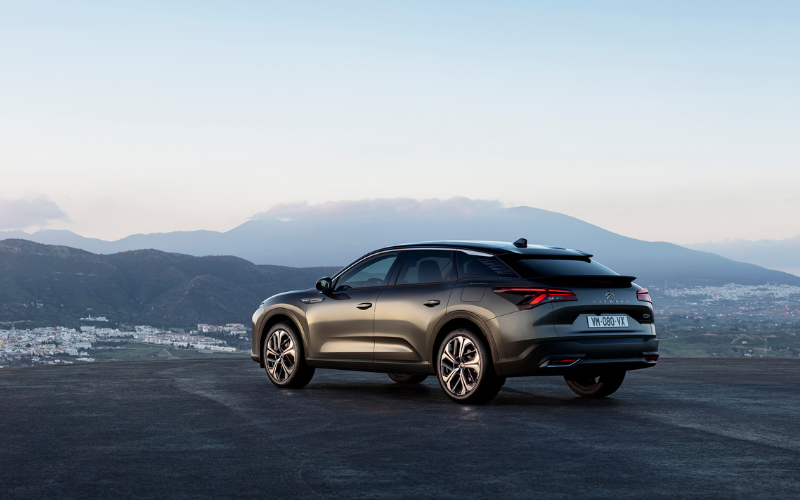 Stand-Out Style
The new C5 X's bold and original look immediately identifies it as Citroen's new flagship model.
Confident, robust and distinguished, the new C5 X's body style is striking. The sleek body style blends both saloon and estate styling and carries many premium SUV elements.
Efficient and attractive, the new C5 X places particular emphasis on aerodynamics. It boasts a long bonnet with fluent lines and a high waistline.
The 19-inch wheels are fitted with distinctive tall and narrow tyres and provide a raised driving position that enhances visibility and safety.
The C5 X features Citroen's new V-shaped signature at the front and rear, which are standard across the range.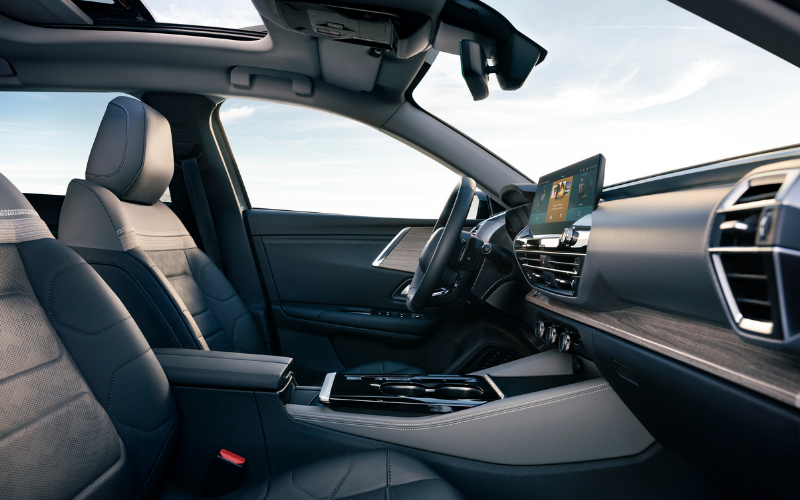 Ultimate Comfort
The elegant interior offers warmth, comfort and space and provides occupants with a tranquil driving experience.
Attention to detail is combined with discreet technology, delivering a welcoming passenger compartment.
The use of Citroen's Advanced Comfort Suspension system creates a peaceful atmosphere with every journey.
The seating comfort is set by Advanced Comfort seats, making them uniquely welcoming as they feature special padding that works like a mattress topper.
Regardless of the journey length, you'll leave feeling completely relaxed as the seats also encourage dynamic and postural comfort through the use of a high-density layer and thickened structured foam.
Space was at the forefront of Citroen's mind when designing the new C5 X and the uncluttered dashboard provides a vast, clear space. All occupants will experience exceptional legroom and generous headroom.
Drivers can tailor the atmosphere to their personal preferences as the C5 X offers distinctive interior environments.
To provide further relaxation on every journey, the interior is kept as quiet and calm as possible by the acoustic laminated glass that is used for the front and rear windows.
Experience The Best Of Both Worlds
The new C5 X Plug-in Hybrid is not only modern, but also offers comfort and versatility of use. The e-Comfort mobility, keeps the driver and passengers perfectly insulated from the outside world.
The advanced 225hp plug-in powertrain is ready for anything – delivering a silent start-up, operation and zero emissions motoring at speeds of up to 84mph.
For those further journeys or long weekends away, the efficient petrol engine is able to takeover, meaning you can complete your journey without having to recharge.
Cutting-Edge Technology
The new C5 X offers state-of-the-art technology to make each and every journey safer and more relaxed.
Citroen introduces its most advanced infotainment system within the new C5 X, which is particularly focused on connectivity.
Stay connected to the digital world with a 12" high-definition touch screen, four USB sockets and wireless smartphone charging.
Add a touch of personalisation to the customisable interface by adding display preferences and widgets to the home screen.
The system also includes an easy-to-use voice recognition system, which entails a digital personal assistant that understands what is said to it, answers questions and carries out demands.
The C5 X includes a range of driving assistance systems to provide you with peace of mind and make every journey a safe one.
Although the new C5 X is not yet available to purchase, keep an eye out for more updates in our newsroom.
In the meantime, why not take a look at the extensive range of new Citroen C5 deals we currently have available?