Citroen to unveil all-electric racing model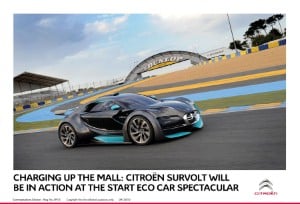 Citroen is to debut an all-electric racing car at the Prince of Wales' Start Eco Car Spectacular this weekend.

Taking place on Sunday (September 12th) at the Mall near Buckingham Palace, the event will feature a number of celebrities showcasing eco-friendly vehicles for members of the public.

The Citroen Survolt will make its first public appearance at the event, boasting an environmental construction and sporty performance aided by a fully electric drivetrain.

A rare appearance in the world of racing, the electric vehicle features a lightweight frame and two motors with a combined power of 300bhp.

It can reach 62mph in under five seconds and has a top speed of 162mph.

Citroen states: "Survolt features a tubular chassis, a flat underside with extractor and full carbon bodywork, all combining to make a genuine emissions-free, all-electric racing car."

The Eco Car Spectacular is part of Start London, a 12-day festival set up by the Prince of Wales to promote sustainable living in the UK which is backed by EDF Energy, IBM and BT.