Could Cactus change the future of the Citroen C-Line?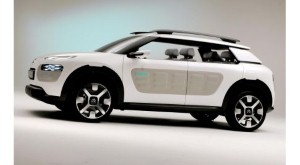 With the Frankfurt Motor Show fast approaching, Citroen is preparing to unveil its new C-line era.

The Citroens to be presented include the New C4 Picasso and C4 Grand Picasso, with the racing vehicle C-Elysee WTCC. However, one of the most anticipated releases is the Citroen Cactus concept, which is expected to demonstrate the future of the manufacturer's C-Line.

According to Citroen, the Cactus is more than merely a concept vehicle, it is a demonstration of the shifting paradigm of vehicle production.

"CitroŽn Cactus is a desirable, user-friendly car that creates a unique harmony between the distinctive and the practical, offering comfort for all occupants with easy-to-use technology," the manufacturer claims.

The vehicle is focussed on providing top-levels of efficiency, with a lightweight and aerodynamic design helping to reduce fuel consumption. Non-aggressive flowing surfaces and a high-tech look also deliver a sleek design which is easy on the eye.

In regards to the design of the interior, Citroen has added sofa-style front seats to provide more comfort, and an "airy driver's station" where all controls can be found as part of a 100 per cent digital interface.

It is expected that the vehicle will set the precedent for future designs of vehicles on the C-Line, defining Citroen's ambitions for the future.

However, when turning to the present, the current C4 Picasso has already sold over 16,000 units despite only just seeing a full launch. The product will still be exhibited as Frankfurt as an example of Citroen's modern offerings. It is the Grand C4 Picasso which will receive its world debut, however.

The car will stand apart from the five-seater version, with a larger body and a distinctive front end. For the lovers of new technology, the vehicle will feature 3D-effect lights at the back.

Citroen has said the vehicle will make a "generational leap" with record boot volumes of up to 700 litres and a lowest-in-class emission rating of 98g/km of CO2.