Dacia Duster bags Best Budget Tow Car Award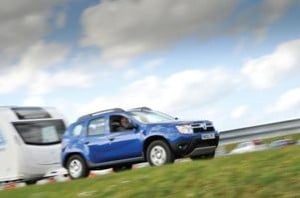 A panel of judges from Practical Caravan, What Car? and The Camping and Caravanning Club voted the Dacia Duster the best budget tow car at the annual Tow Car Awards, 2013.

The model that won was the Duster dCi 110 Ambiance 4x4, with a diesel engine, four-wheel drive and a distinctly note-worthy £13,495 pricetag. With its diesel-torque and power-at-each-corner, this Duster is ready to haul caravans or trailers in tricky conditions.

The Romanian value brand, a subsidiary of Renault – you'll see plenty in France – has only recently launched in the UK, but have caused quite a stir with budget-conscious motorists already.

The judges said: "That price isn't a misprint. For less than you'd pay for the tiny Kia Rio three-door, Dacia will sell you a five-seat 4x4…the Duster is undeniably a bargain.

"It makes a decent tow car, too…In fact, we'd be happy to tow on long motorway journeys with the Duster."

Each car selected for testing was put through various real-world towing tests at the MIRA proving ground in the Midlands, including a 30-60mph acceleration test, 30-0mph braking, a hill start and an emergency lane-change test, to make sure it could handle the rigours of towing.