Dacia makes debut in Auto Express Driver Power survey findings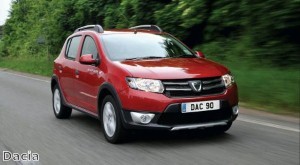 The affordable Dacia vehicles have been praised in the Auto Express Driver Power survey, which questions over 50,000 motorists about their experience with particular manufacturers and models.

It is the first year Dacia has been included in the survey and the firm surprised many people by securing fifth spot for owner satisfaction.

The Renault-owned brand entered into the ranking above other well established vehicle manufacturers, with respondents praising the reliability and practicality of the company's vehicles.

Commenting on Dacia's stunning debut success in this year's survey, Ken Ramirez, managing director of the Renault Group UK, said: "Dacia has a great reputation for affordable, high quality products, with impressive reliability. With an ever-growing trophy cabinet and a four-model range available for a full year, its sales just keep on rising."

He explained that the brand has quickly developed a loyal customer base around the world, but noted that he was delighted to see such success in one of Dacia's newest markets, the UK.

Dacia only launched in the UK in January 2013, but over 24,000 cars have already been sold, with the Sandero range and Duster picking up a number of prestigious industry awards in the process.