Does the Vauxhall Ampera represent the future of motoring?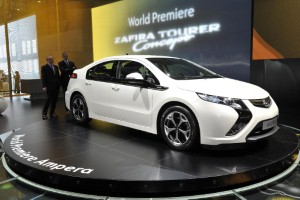 The all new Vauxhall Ampera looks to have all the hallmarks of what the motoring industry likes to refer to as a 'game changer'.

Vauxhall has always been a popular marquee in the UK, but the launch of its all-new electric model could propel the Luton-based brand higher than ever before.

The plug-in car seems to tick all the right boxes as it offers impressive driveabilty, a none-too-shabby 0-60mph time and efficiency beyond the wildest dreams of any petrol or diesel-powered car owner.

Indeed, speaking at the recent launch of the model at Bristol Street Motors in Newcastle, Ian Allen, the carmaker's manager of environment strategy and Ampera, explained that the model offers "all the benefits of owning an electric vehicle with none of the drawbacks".

Indeed, the Ampera boasts an impressive 0-60mph time of less than nine seconds and has a driving range of 50 miles.

However, what sets the car apart from its rivals is the use of a 1.4-litre petrol engine, which takes over when the battery's charge runs out.

Furthermore, the petrol engine delivers power back to the battery unit, allowing it to take over once again.

Mr Allen also pointed out that there are a number of financial incentives for getting behind the wheel of the new Vauxhall Ampera.

The electric motor qualifies for zero road tax and the government's £5,000 green car grant, while business customers around the UK will be able to rely on a 50 per cent benefit in kind.

According to Mr Allen, however, with petrol prices creeping higher and higher, it is the recharging costs that are one of the car's main draws.

He explained that those on the right tariff would be able to recharge the car's battery for as little as £1.

David Crane, Bristol Street Motors' commercial director, echoed these sentiments and said the 235.7 combined tank miles-per-gallon figures and the CO2 emissions of just 27g have led to "fantastic interest" for the motor.

Vauxhall is also extremely confident about the durability of the car and has backed this up by offering an eight-year warranty on the vehicle, which can be carried over to new drivers whenever the car is sold on.