Vauxhall Continues Its Electric Drive With All-New Astra-e
Order books will open next month for the eighth-generation Vauxhall Astra, which will be available in a choice of plug-in hybrid and efficient petrol and diesel options. Then, as of early 2023, the model will become available in battery electric form, as the All-New Vauxhall Astra-e.
Power range on the All-New Vauxhall Astra will range from 110PS to 225PS depending on the model chosen; demonstrating there really is something for everyone when it comes to available drivetrains.
Vauxhall has worked hard to develop a vehicle which combines a truly fun driving experience alongside efficiency. This comes in abundance with the new Astra, whilst maintaining its tradition of being affordable for all.
Electric Vauxhall Astra
From 2023, the famous Astra model will be available as a 100% electric model, the Astra-e. It will join an extensive line up of already electric Vauxhall passenger cars, such as the Corsa-e, Mokka-e, Combo-e Life and Vivaro-e Life. Vauxhall also has a fully-electric line up of its light commercial vehicles, in the form of the Combo-e, Vivaro-e and Movano-e.
The launch of the Astra-e comes in line with Vauxhall's goal to have an electrified line up offering by 2024 and to be solely fully electric by 2028.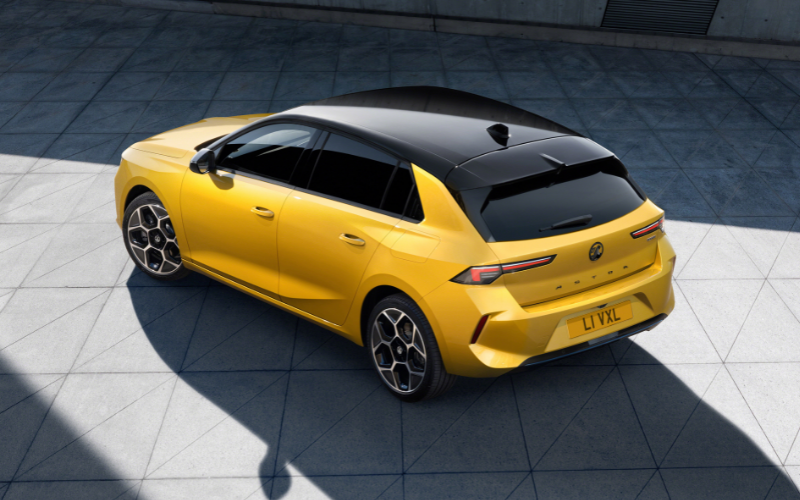 The Plug-In Hybrid Vauxhall Astra
The top spec plug-in hybrid model will deliver 225PS and a maximum torque of 360Nm through an eight-speed automatic transmission. The combustion engine exquisitely interacts with the electric motor to deliver these impressive performance metrics. Another plug-in hybrid model will be available, with a 180PS output and 360Nm of torque.
Both plug-in variants will provide an exciting and enjoyable driving experience, through a speedy acceleration of 0-62mph in 7.7 and 7.9 seconds respectively, and a top speed of 146mph and 140mph respectively.
If you're looking for emission-free driving with the plug-in variant, the fully electric mode can be activated at ease and the 12.4kWh battery will deliver around 35 miles (WLTP) of all-electric range.
Efficient Petrol and Diesel Engines
Both the petrol and diesel models of the All-New Astra offer high economy and low fuel consumption, making them attractive options for those looking for a traditionally-fuelled vehicle.
The 1.2-litre three-cylinder turbo petrol engine with six-speed manual gearbox delivers 110PS. In addition, the petrol engine is also available with 130PS – with a six-speed manual gearbox or with eight-speed automatic transmission. The petrol engine delivers maximum torque of 230Nm.
The 1.5-litre four-cylinder diesel with 130PS is available with a six-speed manual gearbox or an eight-speed automatic transmission.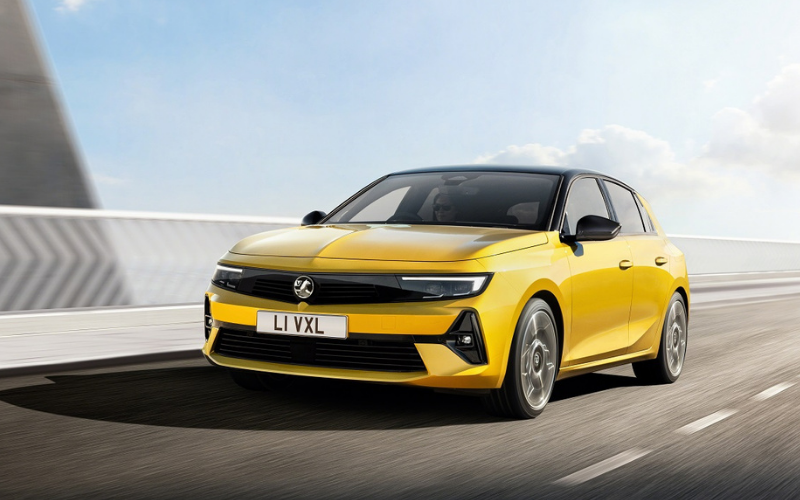 40 Years of Astra
Vauxhall's compact class best-seller first came to market over 40 years ago, and the All-New model marks a new chapter for the manufacturer – with the introduction of its electric form. The new chapter will also see an impressive design statement set by the model, with sleek surfaces and the new Vauxhall Vizor brand face ready to define a new age.
The All-New Astra will offer more space than its previous iteration, whilst still fitting that compact category. The boot offers a practical storage space of 422-litres.
Inside the new model, drivers and passengers will experience a truly forward-thinking cabin; expect an expansive digital cockpit, featuring Pure Panel displays with a human-machine-interface and modern graphics. This technology has been designed to maximise digital connectivity whilst remaining extremely intuitive. Plus, award-winning ergonomic front seats make for a comfortable journey, especially on longer distance drives.
If you're interested in learning more about the All-New Astra, keep an eye on our Newsroom for further updates, or contact your local Vauxhall dealer today.
Alternatively, you can browse our current range of Vauxhall Astra models: