Drivers bought a Ford Fiesta 'every two minutes in 2012'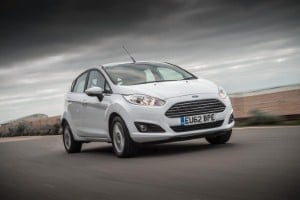 The Ford Fiesta has been deemed the best-selling small car in Europe in 2012, according to figures compiled by automotive data intelligence provider JATO Dynamics.

In the 30 European markets monitored by JATO in the past 12 months, Ford was able to sell a total of 953,174 cars.

Leading the charge for the American vehicle giant across the continent was the Ford Fiesta, with 306,405 of the models delivered throughout 2012.

Ford provided even more interesting reading when it comes to its performance across Europe last year, by stating that it sold more than 1.4 million vehicles in the 51 European markets it operates during this period.

British drivers also appear to have a soft spot for the Ford Fiesta, with close to 110,000 of these models sold across the UK during 2012.

Roelant de Waard, vice president of marketing, sales and service at Ford of Europe, noted: "The Fiesta had a fantastic 2012 in the UK, Europe and across the world.

"This iconic car has come to define what customers desire from a small car – style, quality, efficiency and great technology."

The next 12 months also appear to be a busy time for Ford and particular its Fiesta range, with the launch of the all-new 2013 model.

Set to hit UK roads in April and coming complete with an ST trim, the vehicle will be powered by Ford's turbocharged 1.6-litre Ecoboost petrol engine which is capable of boasting 178bhp and up to 177lb/ft of torque.

From a driving standpoint, the motor allows the Fiesta ST to hit 0-62mph in just 6.9 seconds and go on to reach a top speed of 136mph.

When it comes to the car's equipment, Ford is fitting its base 2013 Fiesta ST car with sporty bumpers, 17-inch alloy wheels, tinted glass windows and a low sports suspension unit. Inside the vehicle, motorists will also find stylish Recaro seats, a state-of-the-art DAB digital radio system and air conditioning as standard.

Mr De Waard commented: "The new Fiesta has some big shoes to fill in 2013 but is perfectly equipped to do so."