EA and Ken Block team up for latest Gymkhana run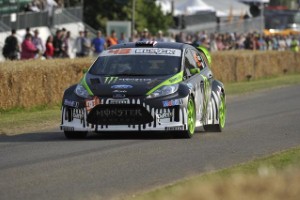 Ken Block has demonstrated that he truly has the need for speed in a new Gymkhana video, where his customised Ford Fiesta ST is put through its paces to promote a new video game.

The seven-minute video celebrates EA's new Need for Speed: Rivals and sees Block throwing his car over, under, around and through a variety of unusual obstacles and equipment that puts his reactions to the test.

The aim of the video was to create the ultimate Gymkhana grid course that not only gives Block a chance to show off his skills, but also demonstrates the power and handling of the new Ford Fiesta ST.

Using every single drop of the ST's 650lb ft of torque, Block drifts around diggers, speeds past policemen riding segways, dodges a wrecking ball and hurtles through a number of freight containers with barely an inch to spare.

The Californian also shows off his technical prowess in a series of mind-bending donuts that barely miss onlookers standing close by, and accelerates from 0-60mph in an eye-melting 1.8 seconds.

The highlight of the action-packed video is Block doing donuts around two moving Lamborghinis, illustrating just why his Gymkhana segments are among the most viral videos in the world.