Enhanced Mazda3 models to be launched in April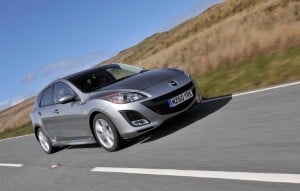 Mazda is to release three new enhanced versions of its family-friendly Mazda3 that will not cost customers any more money, providing motorists with utmost value this Spring.

There will be two Venture models, with a choice between a 1.6-litre petrol or diesel engine, and a 2.2-litre diesel Sport Nav, with both available from April 1st.

Some of the extra features on the enhanced models include 17-inch Bright finish alloy wheels, rear parking sensors, Black Mica door mirror housings and a new black cloth seat trim featuring red stitching.

Customers will have the option of a new paint colour entitled Zeal Red Mica at an extra cost of £495, while there is a choice of another seven other colours.

Prices for the Mazda3 will remain the same, beginning at £17,495 on the road for the 1.6-litre Venture petrol vehicle. The diesel alternative costs £18,995, while the Sport Nav is on the market at £20,995.

"Mazda3 was already a great car and the changes to the three enhanced models bring extra style. With extra equipment, zero deposit and zero per cent annual percentage rate (APR) finance, these Mazda3 models will have added appeal to consumers visiting our dealers' showrooms this spring,"said Peter Allibon, sales director at Mazda UK.

"Made exclusively in Japan, the Mazda3 five-door hatchback was Mazda's best-selling model worldwide in 2012 and the second-best selling model in the UK, after the compact Mazda2. The Mazda3 1.6-litre diesel has been hugely popular and the 2.2-litre diesel with 185ps delivers an amazing combination of high performance and low fuel consumption. It is still one of the highest power C-segment diesel models of any brand available in Britain."

The Mazda3 standard specification also comes full to the brim with excellent features, including a rear spoiler, sports styling, privacy glass, rear bumper sports trim. Meanwhile, on the inside there is a CD radio with auxiliary jack and six speakers, TomTom satellite navigation, an integrated hands-free Blutooth kit, climate control, electric front and back windows and automatic lights and wipers.