Ford adds Glare Free Highbeam tech to premium models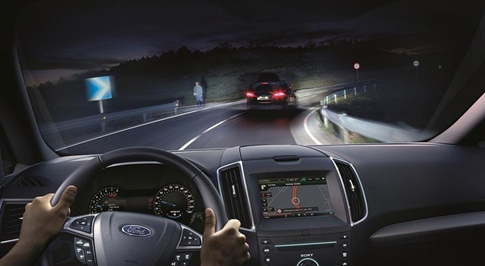 Ford has announced that it is introducing new headlight technology into its top end Galaxy, S-Max, and Edge models. Dubbed "Glare Free Highbeam", the new technology is set to prevent other drivers being blinded by headlights when they are at full beam.
Glare Free Highbeam are "active headlights" that use a system of cameras band on-board technology to detect when other vehicles are approaching. Once an oncoming vehicle is identified, the beam is intelligently shaped to light up the road ahead, but dip where oncoming traffic is detected. The technology is being touted as particularly useful for those who live in rural areas, or where streetlight coverage is lower than average.
Commenting on the new technology, Ford research engineer Michael Koherr said; "We found that some drivers are so concerned about dazzling other road users that they don't use high beam at all. Ford's Glare-Free Highbeam technology can remove that stress for drivers, and softly transitioning between settings also helps the driver's eyes adjust faster to changing quantities of light."
Vehicles fitted with the technology will also use environmental factors, such as ambient light and the weather, and use one of 7 predetermined settings to ensure that the headlights are being used most efficiently.