Ford delivers cutting Edge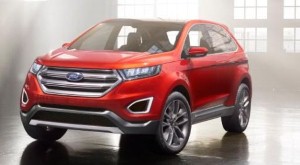 Ford are preparing to bring a brand new SUV to Europe in the coming years and have released a concept design to illustrate its intentions.

The Edge includes the future of Ford's technology, stylistic signature and craftmanship that could be present on future models.

Incorporated into the vehicle is new advanced automated driving technologies, including self-parking and obstacle avoidance systems.

Furthermore, the car has a push-button start system, as well as a remote operated parking feature, with drivers able to use this innovative addition whether they are in or out of the vehicle.

It will add to the Kuga medium SUV and the new EcoSport small SUV that the brand currently has on the market.

The Edge is already popular across the pond, but alterations will be made to the car before it is released on our continent.

Joe Hinrichs, Ford president of The Americas, said: "The next-generation Ford Edge previewed here will build on these cornerstones to create a global vehicle with technology to make life easier, and design and craftsmanship to appeal to customers around the globe."

In addition to being extremely practical, the car is intended to deliver a sporty appearance with a sleek design sculpture. Furthermore, it is intended to deliver the best possible fuel efficiency for an SUV model.